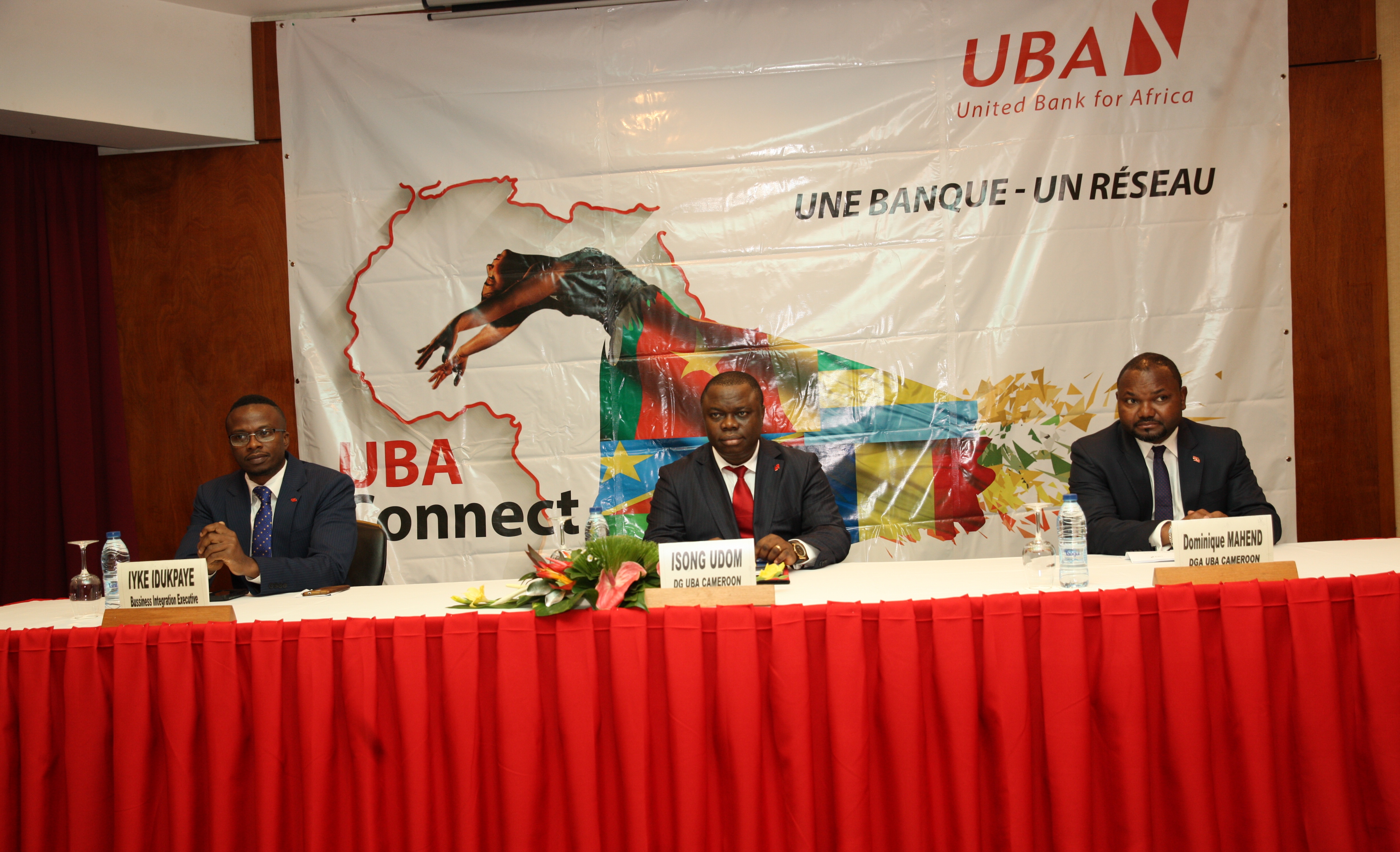 Douala,Cameroon-August 3, 2017-10:30 AM Local Time Cameroon News Agency) In demonstration of its commitment to deliver convenient, superior and innovative banking solutions to its customers, the pan-African financial institution, United Bank for Africa (UBA) Group on Tuesday in Douala, Cameroon, launched UBA Connect to facilitate payments for cross border transactions within Africa .
The UBA Connect, which is an extension of the UBA Instant Transfer Services, is conducted on the Bank's award-winning core banking application, Finacle and has been tailor-made to provide solutions to challenges faced by intra-regional traders and businesses in payment for goods and services on the African continent. It enables UBA customers explore the hugely untapped potentials of intra Africa trade through an effortless payment for goods and services within Africa.
Presiding over the launch in the CEMAC region Isong Udom Managing Director/Chief Executive Officer of UBA Cameroon  emphasized that UBA Connect gives customers in the CEMAC Region instant access to their funds over the counter at any Branch within the UBA network in the CEMAC region, immediate payment and processing platforms that bridges gaps in banking services and regional trade and provide ease of business for you as you can seamlessly transact from any country other than the country of your account domiciliation.
Speaking on the benefits of the new products to UBA customers, Chukwuma Nweke, Executive Director Operations and Information Technology, UBA Group said ' UBA Connect provides ease of business as customers can seamlessly transact from any of 19 African countries in which UBA currently operates, regardless of where the account is domiciled. In addition, the product allows for instant transmission of funds as transactions can be consummated within minutes.
"UBA Connect is created with the customers' convenience in mind, and coming from an institution that has earned its pride of place as an industry leader in trade and payment solutions, the bank will leverage on her reach and channels to connect her customers to their respective accounts in their irrespective home countries from any African subsidiary location in the Group," Nweke said.
The Group Managing Director/Chief Executive Officer, UBA, Kennedy Uzoka, who expressed delight at the launch of the product, stated, "The UBA Connect, which is a non-restrictive and convenient service, demonstrates our resolve to provide  unparalleled experience across all our channels is in line with UBA's vision to dominate Africa's digital banking space. The product is targeted primarily at account holders of the Bank and will ensure ease of business as customers can seamlessly transact business from any country in addition to the country of account domiciliation'.
In coming weeks, UBA Connect will be launched across all geographies where UBA presently operates.
United Bank for Africa Plc is a leading pan-African financial services group, with presence in 19 African countries, as well as the United Kingdom, the United States of America and France.
UBA was incorporated in Nigeria as a limited liability company after taking over the assets of the British and French Bank Limited who had been operating in Nigeria since 1949. The United Bank for Africa merged with Standard Trust Bank in 2005 and from a single country operation founded in 1949 in Nigeria – Africa's largest economy – UBA has become one of the leading providers of banking and other financial services on the African continent. The Bank provides services to over 14 million customers globally, through one of the most diverse service channels in sub-Saharan Africa, with over 1,000 branches and customer touch points and robust online and mobile banking platforms.
UBA was the first Nigerian bank to make an Initial Public Offering, following its listing on the NSE in 1970. It was also the first Nigerian bank to issue Global Depository Receipts. The shares of UBA are publicly traded on the Nigerian Stock Exchange and the Bank has a well-diversified shareholder base, which includes foreign and local institutional investors, as well as individual shareholders.