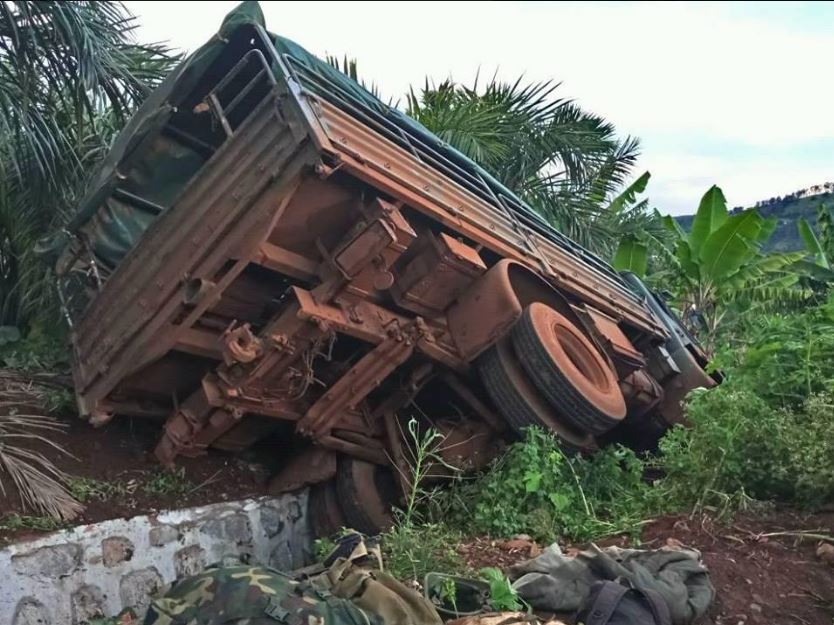 KUMBO,Cameroon-Sunday June 24, 2018-9 PM Local Time(Cameroon News Agency) Three civilians and Four elements of Rapid Intervention Battalion, BIR, have reportedly died Sunday in ghastly road accident which occurred  along the Sob hill in Kumbo, Bui Division in the North West region of Cameroon.
Eye witness accounts say, the BIR truck full with the Elite Forces left Kumbo and was on top speed while descending the Sob hill presumably heading to Bamenda  violently hit a bike.
According to Scandy Media reports, on-board the bike,  were the rider and two women who are reported to have died on the spot. unconfirmed sources say three Elite Forces also died on the spot while one later on died at the Jakiri hospital. CNA cannot independently confirm these deaths as our attempts to get to the Hospital staff were futile, but we are told several others were injured and are being treated.
The mission to Bamenda to reinforce security there following an all day military siege, was aborted. On the site of incident, military uniforms, bags, bullet proofs could be seen lying on the ground while the truck ended its course in the bushed slanted halfway.
No official statement has been made on the issue.