Front page
Politics
Ambazonia Terrorists Are Worse Than Boko Haram, They Now Eat Human Flesh- Atanga NJI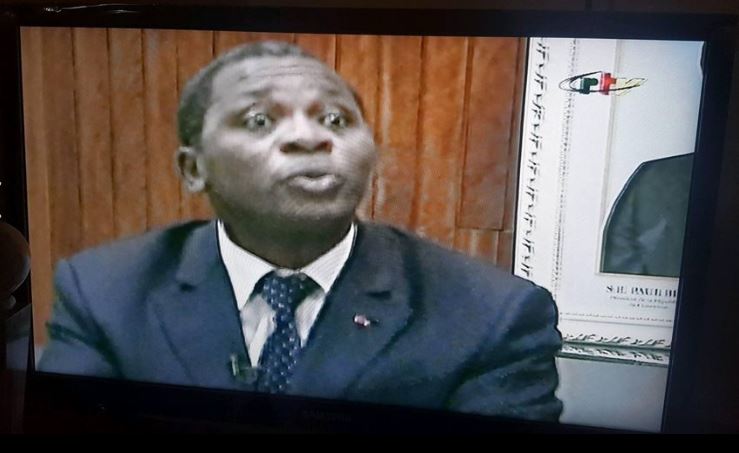 BY NFOR Hanson NCHANJI
YAOUNDE,Cameroon-Monday June 26, 2018-00:04 AM Local Time(Cameroon News Agency) Territorial Administration Minister, Paul Atanga Nji has said that Ambazonia fighters are behind the video circulating on social media in which a man was reduced to "meat" and cooked, describing them as worse than Boko Haram fighters.
The Interior Minister made the outing in a Political program, Presidence Actu, broadcast over State Media, CRTV Monday night. He declared that the fighters now "cook humans ", cut heads of soldiers and use like a football. Mr Atanga Nji said this is the more reasons why the Government is bent on eliminating the armed men. He told the interviewer that the "Amba" fighters in the North West could be only 100 while those in the South West could be 300 in number.
Paul Atanga Nji said those in bushes are minorities but that they should drop their weapons and collaborate with the government. He adds that search in houses will intensify in the two regions and that anyone caught will be handled as a "terrorist ".
On the Menka massacre in Pinyin, Santa Subdivision in the North west region, the Interior Minister said , "The terrorists shot some captives before Gendarmes invaded Menka hotel. Our Gendarmes are professional. They talked for two hours before opening fire."
Asked on the whereabouts of the Ambazonia leaders arrested in Nera hotel , Nigeria, the firebrand MINAT boss declared that, "I don't know why people are only talking about those extradited, I meat Diplomats and they all ask me on their whereabouts but I want to tell them that Cameroon is state of law….they have raped, tortured people, thousands of people stormed the area asking for their heads. We are holding them for their own security. The investigation is ongoing and when time comes they will go to court. "
He insinuated that "Those arrested in Nigeria and extradited to Cameroon are doing well, in fact when they came here I saw one about 70 kg but now he has about 100 kg."
"Territorial Administration Ministry does not handle money , I only handle issues on the ground and  coordinates the humanitarian gesture." he responded to a question on the mode of operation of the humanitarian plan for displaced Anglophones. recently there have been calls for Cameroon's President to change Atanga Nji as the coordinator of the plan, because he cannot be trusted with money.
Atanga Nji also boasted how since the strike started in 2016, he has been to Bamenda more than 27 times.
---
Make a monthly commitment to support Cameroon News Agency, long term or a one-off contribution as and when you feel like it. Help us deliver the independent journalism Cameroon needs.
                       Support now on Mobile Money 679 700 696 or call for further details.