Uncategorized
Douala-Yaounde Highway: Three Die In Fatal Road Accident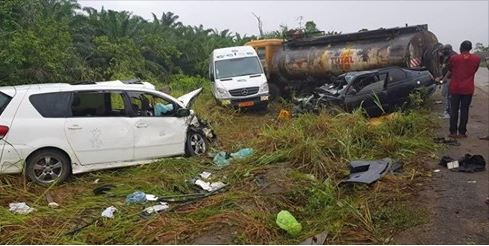 EDEA,Cameroon-Tuesday May 8, 2018-1 PM Local Time ( Cameroon News Agency) Three people have lost their lives in a fatal road accident which occurred Monday night along the Douala-Yaounde highway, security source has confirmed.
The incident took place around Edea in the Sanaga Maritime division, when a tanker transporting oil attempted to overtake the Production Van of a Douala based Channel, Canal 2 International, which was returning to base, immediately the tanker overtook the Van, it met face-to-face with two vehicles coming the opposite direction.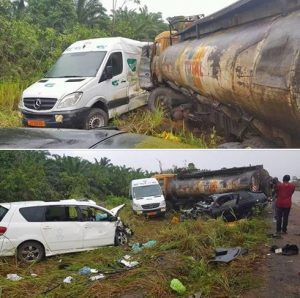 It was too late for the driver to move back to his lane, he violently hit the Carina E and Toyota vehicles including the Production Van of Canal 2, the four vehicles flipped over and landed in the valley.
One person was confirmed dead on the spot while two others later died according to Military sources.
Dieudonne Ntep administrator at Canal 2 International and another worker identified as Mbock were taken to the Edea Regional Hospital for intensive treatment.