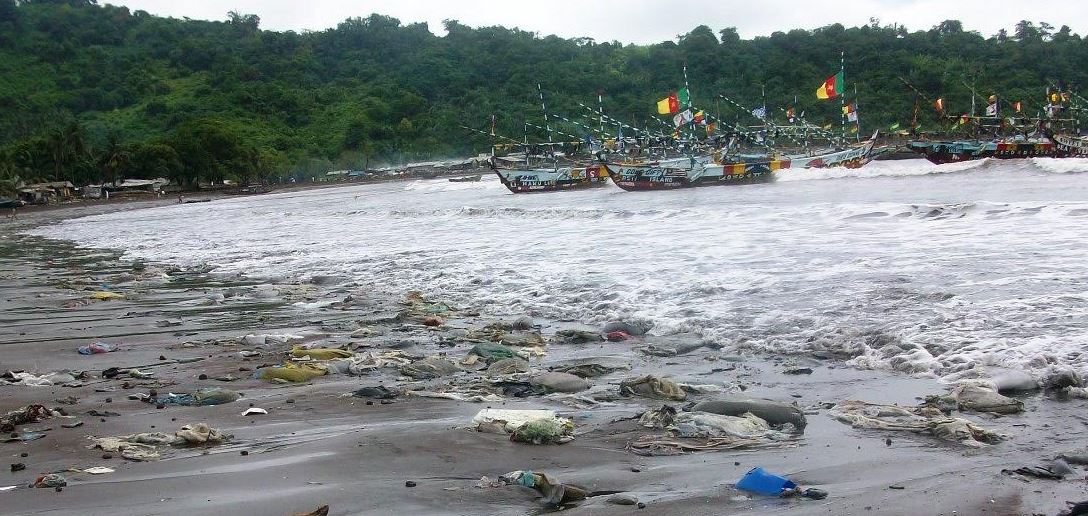 By Elias Ntungwe Ngalame
LIMBE,Cameroon-Friday May 11, 2018-4:23 PM Local Time (Cameroon News Agency) As floods and pollution wreak havoc on a key industry, prompting visitors to stay away, fishermen and businesses in Limbe fear not only the sea but also the future.
Sitting in front of his plank house in Batoke Limbe, a coastal village in Cameroon's Southwest region, Ngeme John, 45 arranges his boat and net in readiness for the day's early morning catch.
But the planned expedition won't take place on the fishing spot around his village, as it used to. Just 2km away, the formerly coastal fresh air now smells of gasoline and patroleum spills. The silence of the surrounding mangrove forest is broken by the honking and rumbling of patrol tankers and heavy duty trucks.
He stares vacantly at the rolling sea, struggling to hold back the tears in the eyes in desperation.
"I have lived here for over 25 years, but never experienced this type of polluted environment before ," says John, a fisher man in Batoke some 5 KM away from Mile six a renowned tourist beach in Limbe.
Marine pollution along the coastal town of Limbe stretching through Douala in Cameroon has continued to surge in recent years . As a result, John now must venture about 30 km away from home to fish.
He and the entire fishing community along the coast complain their livelihood have been destroyed  by the disaster.  Environmentalists are sounding the death knell too.
"This patroleum exploitation project has made life perilous for us," John said .
" The polluted waters have scared all the fish.We are obliged to go fishing far away, where we can find something to eat and earn some income to send our children to school ," he explained.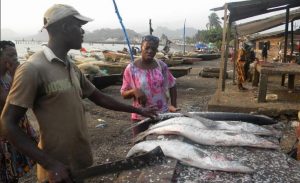 The Cameroon government says it is touting  oil resource exploitation in the shores of Limbe as part of the country's ambitious plans towards an emerging economy by 2035.
The country's lone National Oil Refinery, known by its French Acronym as SONARA, in 2014 invested FCFA 620 billion to facilitate the refining of locally produced crude oil , according to the ministry of mines and energy. The project now permits the company to refine 100 percent of crude oil produced in Cameroon up from just 10% before 2014.
The government says the project has scaled up production capacity  from 2,100,000 tons to 3,500,000 tons.
"The oil refining project has stepped up petroleum production in the country »,said  Gaston Eloundou, Minister of water and Energy resources.
Environment expert say the project is key driver to maritime pollution with accidental crude oil leakage from drilling ,oil transporting ships and ruptured pipelines.
According Bio-resource Centre, an NGO on environment in Cameroon – the Limbe coastal city and surrounding villages is slowly swallowed by repeated floods and water pollution exposing the population to multiple environmental hazards. The Mile Six Beach is regularly covered with spilled oil and the black volcanic sand has been decolorised to brown.
« In some parts of flooded area, only the tops of houses and trees are seen emerging from the water , » says Augustine Njamnshi , CEO of Bio-resource centre. He blamed the persistent floods on the clearing of mangrove forest along the shores.
« Mangrove forests along the coast are crucial to protecting the shoreline and mitigating damage from storms and high seas, » says Samuel Nguiffo of the Centre for Environment and Development in Cameroon, an NGO that deals with forest and land issues.
The protection of marine ecosystems and the maritime environment is important not only for equatic life but also the health of residents in coastal communities, health officials say.
«  Air and water pollution bring  respiratory, heart, eyesight, skin diseases,leading  to  death, » says Dr Joyce Ebenson of the Buea district hospital.
But the company has dismissed claims of sea water pollution, saying its oil drilling  are in compliance with the law and environmental norms
"These allegations are simply perpetrated by some of our detractors," said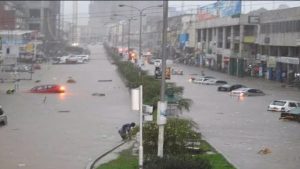 Ngome, the public relations director of the company.
The company however admitted pollution  from gas emissions in the oil refining process but noted this is sufficiently carried to acceptable higher levels in the atmophere.
In an earlier press statement , the general manager of the company, Ibrahim Talba Mallah, said the company's expansion efforts is also geared at addressing a "dire humanitarian need in the immediate environment",easing local unemployment and also supporting the local council's fight against climate disasters.
Home to some 6 million people, Limbe and Douala, two Cameroon's biggest coastal cities have in recent  years suffered from deadly floods and related  water borne epidemics.
"We are having persitent floods in these coastal areas making business really difficult, » said the government delegate to the Limbe city council Andrew Motanga.
« Last year the floods were so heavy that many families, mostly children and mothers who found refuge on rooftops, were rescued from the deluge by the army's firefighting brigade," he explained.
Officials of the Cameroon National Red Cross say natural disasters in the Southwest region and Limbe in particular  has increased in the past 10 years.
« Climate change is already wrecking havoc and oil spills only come to aggravate matters, » said Sophia Namondo of the Cameroon Red Cross, Limbe chapter.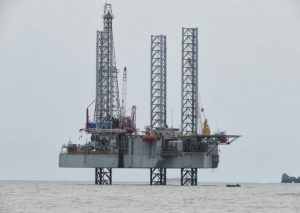 Business and tourism down
Local Council authorities say the exquisite sandy  beach flanked by greeneries of mangrove forest has gradually disappeared.
«  The ecological attraction and volcanic sand believed to possess magic powers from Mount Fako is increasingly disappearing . Our visitors for picnicking, sunbath and and consumers of fresh fish are no longer coming,' » said Andrew.
«  The fishes, the fishermen and tourists are going away, » he said, shaking his head in apparent frustration.
Statistics from Limbe's city council show that tourist visits to the region in 2017 dropped by more than 60% compared with three years before.
For Keneth Doh a bar restaurant owner in Ngeme village  and other vendors, tourist guides, the shrinking  and stinking  coast is a complete disaster to their livelihoods.
"The decline in the number of customers in our restaurants is affecting our business , » said Keneth.
Mary Dione, owner of a roasted fish and seafood restaurant, estimates her business is down by 50 percent due to the disappearance of customers at the beach.
"When customers come and feel very uncomfortable with the gasoline stench, they go somewhere else," Mary said.
« I have been doing this business here for over 25 years.  My life and that of my family is here, where do I go from here, » she wonders.
SOLUTION
Local Council authorities say  they are carrying out weekly cleaning  and have resumed tree planting along the coast. The council is looking to raise funds to do more beach cleaning work in hopes of making the area attractive again, Andrew Mutanga said.
The first step to protecting the shoreline from extreme weather could be through major reforestation efforts, experts say.
"A tree-planting project by the local council with support from the government is necessary along the entire coastline," Samuel Nguiffo says.
« When local councils are empowered  they can better combat the effects of climate change and pollution, » he adds.
.