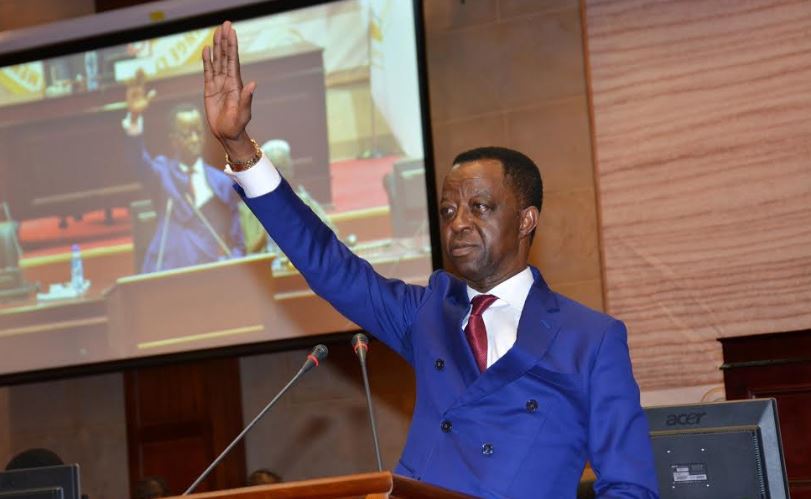 MIDRAND,South Africa-Friday May 11, 2018-7:20 AM Local Time(Cameroon News Agency) Hon. Roger Nkodo Dang of Cameroon has retained his position as PAP President after recording a land slide victory Friday in South Africa. The three Pan African Parliament (PAP) presidential contestants who participated in the just ended elections have all accepted the outcome, describing it as a "lesson for the entire continent."
The elections were held following the expiry of the term of the 4th Bureau led by Hon. Roger Nkodo Dang that has served for three years as per the constitutional rules of the PAP.
Hon. Nkodo Dang returned his presidential seat after poling 133 votes, followed by Hon. Chief Fortune Charumbira from Zimbabwe who got 47 while Hon. Mostafa El Gendy from Egypt got 44 votes.
Hon. Nkodo Dang came into office as an elected successor to Bethel Nnaemeka Amadi on May 27 in 2015. "Democracy has prevailed," said Hon. Chief Charumbira after the election.
"I am hoping this is a lesson to my fellow Africans across the continent that democratic processes must be embraced and appreciated. The parliamentarians from across the continent present here today casted their votes freely and this is a signal that we are in the correct path towards embracing the democratic processes of running our elections. Let this not end here, but let it be a continental practice and culture."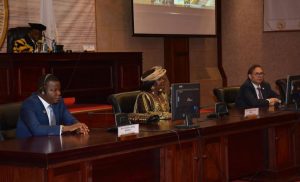 A jovial Hon. Nkodo Dang expressed gratitude towards Hon. Chief Charumbira for accepting the results.
"I am pleased that our experienced parliamentarian brother Charumbira allowed democracy to prevail by accepting the results. This is the correct path that we are taking as PAP and I am as well optimistic that this gesture will not end here, but will be adopted by our parliamentarians and educate our peoples in their communities on democratic processes," he said.
Nkodo Dang further urged unity amongst Africans to achieve a better tomorrow and predicted hope for the continent.
"We need to work forward as a team. There are a lot of things that we are still learning and implementing. If we are given support by PAP parliamentarians, we will achieve them. We might not agree on various things, but let us unite for a better continent. Long live Africa, long live PAP," he added.
Also accepting the outcome of the elections Hon. Mostafa El Gendy said he had confidence that Nkodo Dang would transform PAP.
"This is a new era, a rebirth of PAP. Let us support Nkodo Dang who prevailed following a publicly witnessed democratic election process. Dang has the capacity to do it. As Africa, let us rally behind him as our chosen leader. He has always implemented efforts to unite us as a continent," he said.
The other Bureau Members are Hon. Stephen Julius Masele of Tanzania (East Africa), Hon. Haïdara Aichata Cissé of Mali (West Africa) and Hon. Bouras Djamal of Algeria (North Afica) as first, second and third vice-presidents respectively.
The Southern African Region does not have a vice–president as the caucus had not yet nominated a candidate. Mr. Vipya Harawa, Clerk of Parliament will later call a fresh election for Southern Africa to take the position of 4th vice President.