By Peter Kum
Douala, Cameroon-Monday August 21, 2017-12:30 PM Local Time (Cameroon News Agency) Former Indomitable Lions Coach, now coach of Bamboutos of Mbuda, Jules Nyonga together with Birwe Monkreo of Garoua have been hospitalized in different health establishments after they were involved in a road accident.
Jules Nyonga was knocked by a motor bike as he left a shopping mall towards the team's bus. Reports say after the encounter between Bamboutos and Astres of Douala, the team was returning to Mbuda when the coach decided to stop by a shopping Mall to purchase some items, unfortunately he was hit by a fast moving bike. Jules Nyonga is expected to conduct an X-ray on his head where he sustained injuries.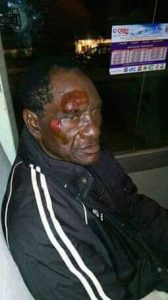 Elsewhere in Garoua, the head coach of local side Cotton was involved in a road accident after he violently hit a tree Sunday. He is presently at the Garoua regional hospital receiving treatment.