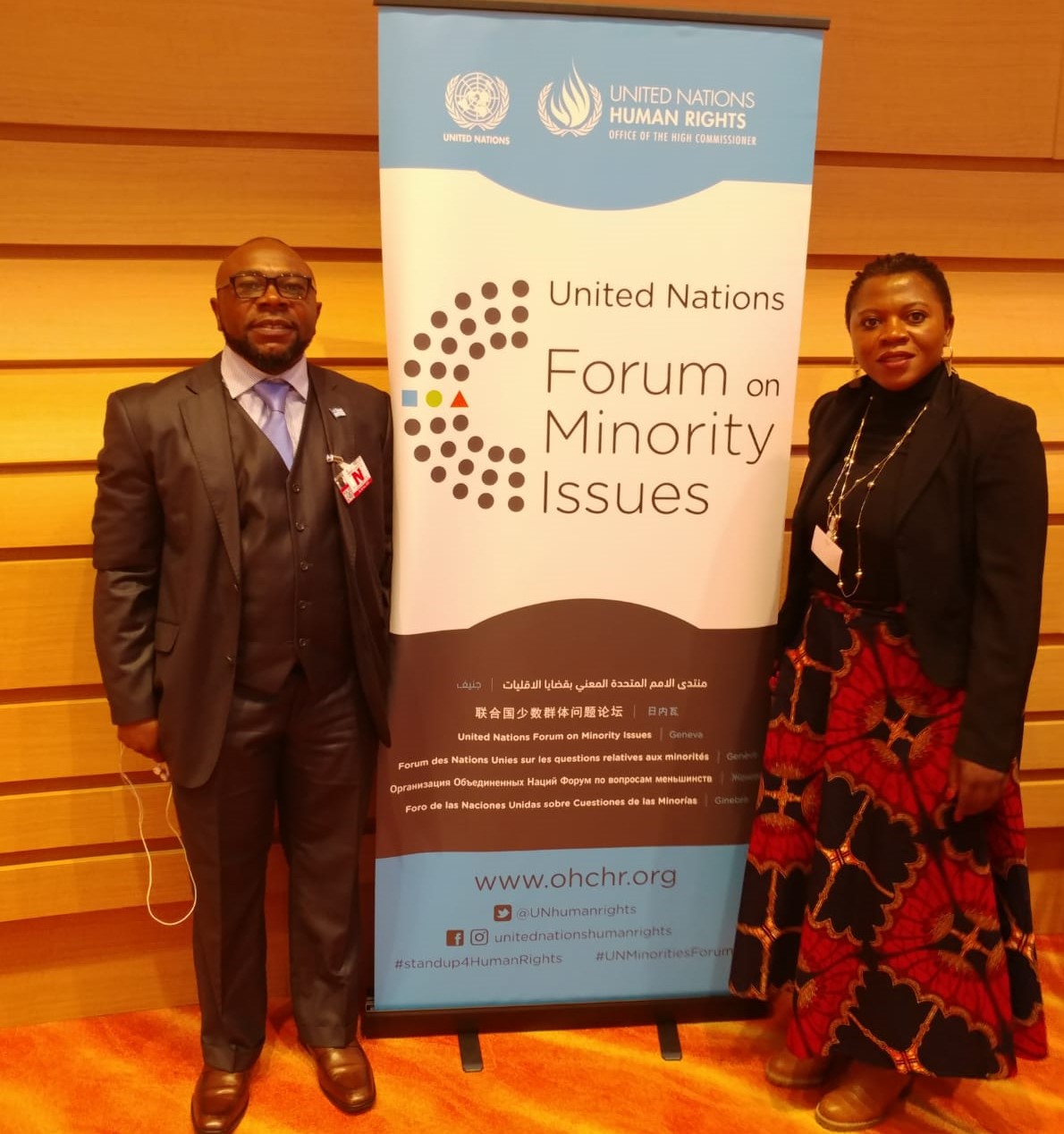 Representatives from the Ambazonia International Policy Commission, AIPC, to the just ended 11th United Nation's Forum on Minority Issues in Geneva, Switzerland, have called on the United Nations High Commission for Refugees to urge all associated partners to stop providing arms support to Cameroon, AIPC press team has said.
The 11th Forum on Minority Issues held on 29-30 November 2018, focused this year on statelessness as a minority issue. Drawing inspiration from this topic, the Chairperson of AIPC, Dr Bernadette Ateghang and her team, emphasized  on women and children affected by statelessness as swell as preventing statelessness through human rights approach, the case of Southern Cameroons.
They decried the sufferings of thousands of refugees in Nigeria, insinuating that they are all stateless, "They are stateless, even though the government of 'La Republic du Cameroun' is claiming sovereignty over them, but the actions of the agents of that government (military & administrative), in taking away their civil rights (military brutalities, killings, rape, arrests, extortion, burning of homes, refusal to issue passports etc), have rendered them stateless. They are the most vulnerable in society and make up the majority of those currently living under horrendous conditions in bushes and refugee camps," A statement from AIPC read.
The delegates said the case of Anglophones (now preferred Southern Cameroonians) does not really fall under a minority issues, rather it is an issue of sovereign state under the UN for 57 years which has been occupied through a belligerent manipulation by another state called Republic of Cameroun.
They said, "Southern Cameroonians" are treated as a national and linguistic minority, not as an ethnic or religious minority. They are suffering from state terrorism by the Biya regime, who is treating every Ambazonian as a terrorist. France is guilty of supporting Biya despite his election rigging and war crimes."
AIPC recommended that the   UN can prevent statelessness through strict human rights approaches, the case of Southern Cameroons, with the first being the prohibition of arms related treaties with human rights abusers. The arms help them to commit more abuses than before, a major consequence is "The crimes and atrocities against humanity meted upon our people include mass killings, summary and extra judiciary executions, burning of more than 200 villages etc. Now we have more 800, 000 internally displaced people and more than 200, 000 refugees in Nigeria, some leaving in bushes without identification papers, new born without birth certificates leading to statelessness. " AIPC said.
According to AIPC, statelessness can be prevented through, effective state legislation, policies and programs ,civil society , international, national and regional , international, regional and bilateral cooperation, United Nations mechanisms, bodies and specialized agencies, funds and programs, intergovernmental organizations , mechanisms in the field of human rights, national human rights institutions and other relevant national bodies, academics and experts on minority issues, representatives of minorities, minority and nongovernmental organizations and minority rights groups volunteers.
They ended by telling the Rapporteur of the 11th UN Forum on Minority Issues that "Long-term and sustainable solution of this current crisis in The Cameroons can only be achieved by addressing the root causes with the participation of France, United Kingdom and United Nations who are responsible for the predicament of the people of Southern Cameroons."