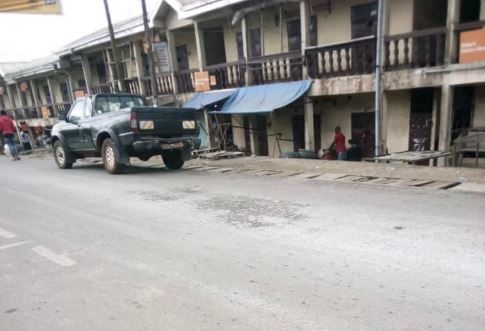 BUEA,Cameroon-Monday July 2, 2018- 1 PM Local Time(Cameroon News Agency)The town of Buea, headquarter of the South West region, has since early Monday July 2, 2018 witnessed one of the most respected ghost town in recent times, making Monday an "undeclared public holiday" in Buea.
Denizens woke up Monday with  streets almost deserted, few vehicles in circulation, shops, bars,banks, business places all shutdown. The ghost town observation in Buea is unfamiliar, it is unprecedented.
In Mile 17, the gateway to Buea, the Motor Park is deserted, shops remain permanently closed, the usual hustling and bustling absent. Only few people can be seen standing in small groups, discussing in low tune the present situation.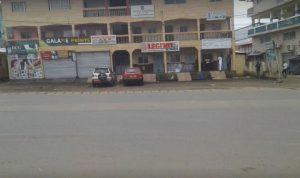 The ghost town this Monday comes after a bloody weekend in Buea characterized by gunshots, destruction of properties, arrest and intimidation. Many are afraid to go out because activities of armed men, suspected to be Anglophone Separatist fighters have increased tremendously and one of their  main aim is to make sure civil disobedience reigns, such as observing ghost town as protest.
Recently, Buea has been the centre of attraction since the Anglophone crisis started as armed men have invaded the town, attacking regular army on several occasions.
Last Friday, an Officer was killed  while another who got missing was later found dead as the armed men attacked a control post around Mile 16 , Bolifamba. On Sunday July 1, armed men attacked and broke lose the cell at Muea Police station, they allegedly killed two Police Officers, destroyed a fueling station,Bocom, before disappearing into bushes.
Sporadic gun shots have crept into silents nights as Buea denizens are gradually becoming used to scenarios experienced until now in Bamenda, North West region.
Since October 2017 when the arms struggle started with Anglophones picking up arms against regular army whom they accused of raping, maiming and killing, Buea has not witness such terrifying moments.
Special Elite Forces are now seen on streets of Buea and in suspected hideouts of the Separatist fighters, ready for any eventuality.
---
Make a monthly commitment to support Cameroon News Agency, long term or a one-off contribution as and when you feel like it. Help us deliver the independent journalism Society needs.
                       Support now on Mobile Money 679 700 696 or call for further details.