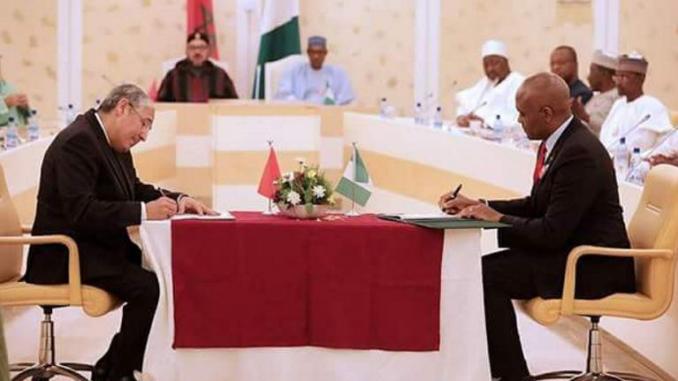 Trading activities in Africa are expected to be boosted in coming months after  United Bank for Africa, UBA Plc and the UAttijariwafa Bank signed banking Memorandum of Understanding (MoU) which will not only strengthen their collaborative efforts in correspondent banking but will also help in  investment funding, trade finance and project finance on the African continent.
President Mohamadou Bouhari of The Federal republic of Nigeria and counterpart His Majesty King Mohammed VI.
The framework document, which outlines key areas of cooperation between Attijariwafa and UBA, was signed during the official visit of His Majesty King Mohammed VI to President Muhammadu Buhari at the Presidential Villa Abuja, by Mr. Tony Elumelu, Group Chairman UBA and Mr. Mohamed El Kettani, Chairman and CEO of Attijariwafa Bank Group.
In accordance with the MOU, both banks will organize Business to Business missions to identify and develop business and investment opportunities, not only between Nigeria and Morocco, but across their respective African networks.
Mr. Tony Elumelu, Chairman, UBA Group said "this collaborative effort is a historic milestone. As two groups with considerable footprints in Africa, we see huge potential in bringing our collective expertise in banking to provide Africa-led solutions to the needs of Africans".
Mohamed El Kettani, Chairman and CEO of Attijariwafa said, "Nigeria is the largest African economy and a leading commercial and financial hub in West Africa. It goes without saying that our group should collaborate with outstanding players, such as UBA Plc, to provide customized assistance to African and international companies to grow trade and investment flows, between not only Morocco and Nigeria, but also in all countries where our two groups are established. The MOU we just signed is a first but major milestone in a long-term partnership. It also heralds promising perspectives for African and international investors worldwide."
United Bank for Africa (UBA) is one of Africa's leading banking Group with operations in 19 African countries and 3 global financial centres; London, Paris and New York.
Founded in 1948, UBA has grown from a single country operation in Nigeria, Africa's largest economy to a pan-African provider of banking and related financial services, to more than 11 million customers, through over 1,000 Business Offices and diverse channels globally.
UBA is listed on the Nigerian Stock Exchange (NSE).
While Attijariwafa Bank is a leading banking and financial group in Africa founded in 1904. Attijariwafa bank is a universal bank operating in a wide range of activities, including retail banking, private banking, corporate & investment banking, specialized financial services, asset management, insurance and international retail banking.
Attijariwafa bank is present in 25 countries with 3,844 branches and 17,367 employees servicing 8.1 million customers. The Group reported total assets of USD 42.6 billion and shareholders' equity of USD 4.2 billion as of 30 June 2016. It recorded in 2015 net banking income of USD 1.9 billion and net income of USD 535 million.
Attijariwafa bank is listed on the Casablanca Stock Exchange with a market capitalization of USD 7.4 billion as of 30 September 2016.
By MUSA Wilson