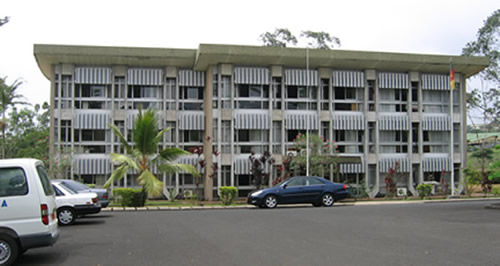 By NFOR Hanson NCHANJI
BUEA, Cameroon-Monday April 9, 2018-8:10 PM Local Time (Cameroon News Agency) Members of the Senate in the University of Buea, the institutions highest decision taking body have voted to cancel all examinations taken by the Mayor of Buea, Patrick Ekema Esunge while in the institution. The decision taken Thursday April 5, 2018 has been sent to the Ministry of Higher Education for approval.
CNA gathered from a reliable source in UB, who decline revealing his/her name for fear of victimization, that after the Regional Secretary for Human Rights in the South West, Christopher Tambe Tiku, brought startling revelation about the alleged fake certificates of Patrick Ekema, it just fell within a project initiated by the University of Buea which was in the process of investigating certificates of staff, especially support staff.
Reports say a team was set up to find out the veracity of the documents brought by Tambe Tiku. During investigation, the team discovered that the Mayor as revealed by Christopher Tambe Tiku has just E grade in History but got admission into the University of Buea at the time. The Senate revealed Thursday that he later took several A/L exams but failed. However the Senate says the team discovered that the Mayor later obtained a C grade in French, what he used to enter into UB including gthe E he had.
CNA source said the Senate went to verify the authenticity of the French grade but could not find any at the GCE Board, the Mayor was then invited to explain where he got the grade from but he never showed up.
The Senate therefore concluded that he could have used the grade to get admitted into UB because at that time he used to work at the Admissions office where work was done manually.
CNA gathered that the Senate unanimously agreed that all examinations the Mayor took in the Institution are henceforth cancelled, meaning his Bachelor and Master Degrees are null and void.
It has also been revealed that the Mayor was not the only case discussed at the Senate, a student who studied in Journalism and Mass Communication falsified documents to gain admission into the department with a fake 13 points whereas she had just two E at the Advance level. All her examinations were also cancelled.
The Senate decision has been sent to the Ministry of Higher Education for validation.
This is one of the major Academic decisions taken in UB under the new Vice Chancellor Professor Horace Manga.
The Mayor has not reacted.
————————————————————————
If you like our updates, you can support us to enable us go further in our work. Support us now on  679 700 696 on mobile money or call for details. Thanks
---
CNA INNOVATION
Good morning dear Friends, I am glad again to announce that Cameroon News Agency is bringing something big in news circulation.
We have adequately acquired means to reach you with news alerts even when you are offline with CNA Updates.
*What is CNA Updates?*
This is an offline news alert through text messages. Subscribers will be able to get news about Cameroon and to an extend the world when they break-out.
You will be able to get the news wherever you are in the world. You just need to subscribe by sending your number to our team either through email at info@cameroonnewsagency.com or cameroonina@gmail.com.
You can also send directly to this number +237 679 700 696.
Subscription is 10 dollars for a month (5000 FCFA) with at least three news alerts daily and can be deposited through Mobile Money or money transfer.
*How Does CNA Updates work?*
It is very simple and just like any text message sent to any phone.
You will receive a message with heading *CNA Updates* with the news in the body of the message. But you will not be able to reply to the message.
CNA will use this week for trial. You can send in your numbers for subscription and get free news alerts for free, one week only.
*Why CNA Updates?*
Our aim is to make sure that news reaches your door step without going through mountainous problems of connection and contact log in.
Also in the quest of raising income for the Agency to improve on news availability, we think that it will be a Win-Win venture and a means of compensating for the work we do.
Thanks for your interest. Waiting for your numbers
The Publisher,
NFOR Hanson NCHANJI