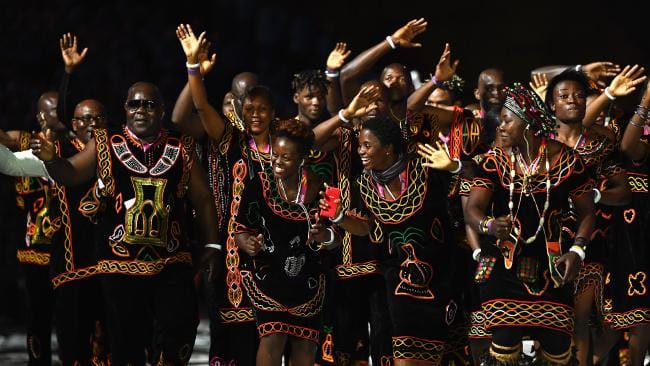 DOUALA,Cameroon-Wednesday April 11, 2018-8:30 AM Local Time (Cameroon News Agency)  The number has risen to 8 Athletes declared missing in the Games village, Gold Coast Australia. Three others were nowhere to be found Tuesday night, head of Team Cameroon, has announced.
Victor Agbor Nso in a releases stated that the situation has saddened the delegation as some of the Athletes did not compete in their discipline. He said the Athletes left in three waves, " First in the night of 8th April, three Athletes departed from the village. hen on the 9th, two others were declared missing and last night three others left their rooms."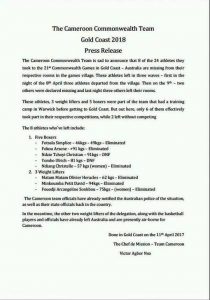 The Athletes include three weight lifters and five boxers:
Five Boxers:-
Fotsala Simplice – 46kgs – 49kgs – Eliminated
Fokou Arsene – +91 kgs – Eliminated –
Ndzie Tchoyi Christian – 91kgs – DNF
Yombo Ulrich – 81 kgs – DNF
Ndiang Christelle – 57 kgs (women) – Eliminated
3 Weight Lifters:-
Matam Matam Olivier Heracles – 62 kgs – Eliminated
Minkoumba Petit David – 94kgs – Eliminated
Fouodji Arcangeline Sonkbou – 75kgs – (women) – Eliminated
The head of delegation of Team Cameroon has revealed that Australian Police have been alerted.
This is not the first time Cameroonian Athletes have abandoned their camp in top competitions in the 2012 London Olympic Games,  7 Athletes went missing and have never been traced till date while in the 2006 Melbourne Commonwealth Games  9  also went missing.