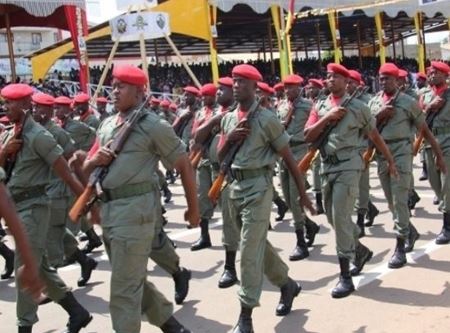 YAOUNDE,Cameroon-June 20, 2018-9:13 PM Local Time(Cameroon News Agency) Two Gendarme Officers who worked with United Nations Peace Keeping Force in the Central African Republic have been sentenced to varied prison terms for their continuous love making while on duty.
The Guardian Post reports that Marechal des logis-chef, Kiebe Didier received six months jail term while Gendarme major Kienchu Christine was sentenced to one year imprisonment with hard labour.
The newspaper further explains that a complaint was lodged at the court by a certain Godwin Kecda, fiancé of the latter. Judges in passing verdict also awarded Kecda damages amounting to the tune of FCFA 141,000.
The judgment partially read, "You were sent on an international assignment in the Central Africa Republic instead of paying attention to your duties,  you engaged in a love affair to the point of having repeated sex and causing scandal in your military camp which is contrary to military ethics."
The Judge also said that the two officers had first denied their act trying to cover one another until when pictures of their sexual acts were paraded in court by the complainant.
The woman, Marechal des logis-chef accused the partner of repeated use of witchcraft to lure her into having sex with him. She said the man induced her to suck his private part while he insisted on washing her pants during menstruation. She also said the male Officer seduced her by allowing her manage his accounts and take charge of his pay package.
She regrets the acts saying that the make Officer, Didier lured her into it, telling lies that he was not married. When she discovered that he was married and have many children, she decided to call it quit but the man was not happy. He proceeded to send pictures of both of them to the fiancé of the woman, reasons why he had the proofs while in court.
TGP Newspaper
---
Make a monthly commitment to support Cameroon News Agency, long term or a one-off contribution as and when you feel like it. Help us deliver the independent journalism Cameroon needs.
                       Support now on Mobile Money 679 700 696 or call for further details.