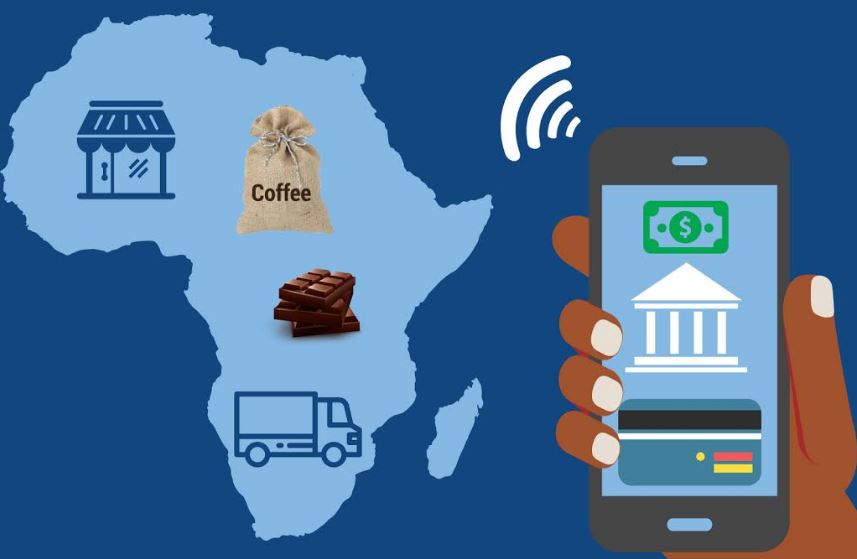 PRESS RELEASE
Cameroon, June 21, 2018 Ovamba, the award-winning innovator that produced Africa's' first "Sharia compliant" 'FinTech' and 'AgriTech' platforms, was selected among hundreds of candidates as one of the World Economic Forum's "technology pioneers".  Ovamba is a ground-breaking company with operations on the African Continent and was founded by Viola Llewellyn and Marvin Cole in 2013. Their unique approach to helping businesses grow combines a proprietary risk model that blends ethnic and cultural data with traditional risk assessment features that are attuned to African realities.
Customers who come to Ovamba for support are serviced with eCommerce, logistics & flexible warehousing solutions to promote business growth. In addition, Ovamba's Natural Language Chatbots give informal businesses in the trade and commodities sector an opportunity to gain access to financial services and business coaching.
World Economic Forum on Thursday announced its selection of the world's 61 most promising Technology Pioneers 2018, the most diverse class of such pioneers ever.

Companies were selected for their potential to "transform society and industry" and "shape the Fourth Industrial Revolution," Fulvia Montresor of the World Economic Forum said

Ovamba, which has innovated finance and business growth tools for African entrepreneurs has been one of three companies with a specific focus on Africa, and the only one focusing on Cameroon selected for its contributions to helping solve Africa's challenges with access to financial services and capital

The full list of recognized Technology Pioneers can be viewed

here
The World Economic Forum's Technology Pioneers community are early-stage companies from around the world that are involved in the design, development and deployment of new technologies and innovations, and are poised to have a significant impact on business and society.
This year's cohort is the most diverse ever, both geographically and in terms of gender. 25% are female-led, and a majority (54%) come from regions outside the United States and Silicon Valley, with each continent represented, barring Antarctica. There is also a wide variety in the technologies the pioneers focus on: the focus technologies include artificial intelligence, big data and internet of things (IoT), biotechnology, blockchain, autonomous vehicles, cyber security, vertical farming and other agricultural advances, decentralised microgrids and robotics. The full list of technology pioneers can be found here.
Following its selection as Technology Pioneer, Co-Founder & President Viola Llewellyn of Ovamba will be participating in the World Economic Forum Annual Meeting of the New Champions. This meeting, also dubbed "Summer Davos" will be held in Tianjin, China, September 18-20. Many Pioneers will also attend the Annual Meeting in Davos, in January 2019, and continue to contribute to Forum initiatives over the course of the next two years.  
"We welcome Ovamba in this diverse group of technology pioneers," says Fulvia Montresor, Head of Technology Pioneers at the World Economic Forum. "Ovamba and its fellow pioneers are front and center in shaping the ongoing Fourth Industrial Revolution and we believe they will be transforming society and industry in a positive way in the years to come."
"We could not be more thrilled!  It is truly an honour and the pinnacle of any career to be recognized as a pioneer by the World Economic Forum", said Ovamba Co-Founder, Viola Llewellyn.  "Technology is making it possible for Africa to be completely included in this Industrial Revolution. This selection confirms that globally, not just in Africa.  We plan to use this award to continue to shape the ecosystem for socially impactful innovation and engage with stakeholders in government, business and society at large."
The Technology Pioneers were selected by a selection committee of more than 60 academics, entrepreneurs, venture capitalists and corporate executives. The committee based its decisions on criteria including innovation, potential impact and leadership. Past recipients include Airbnb, Google, Kickstarter, Mozilla, Palantir Technologies, Spotify, TransferWise, Twitter and Wikimedia.
All info on this year's Technology Pioneers can be found here: http://wef.ch/techpioneers18
More information on past winners can be found here.
About Ovamba: Ovamba is a US-founded technology innovator that develops online platforms and mobile apps to help businesses in Africa's trade & commodities/agribusiness sectors to grow.  Customers grow when they access & use Ovamba's combination of short term funding & business tools. Ovamba raises capital from global investors to fund the businesses and uses its technology to solve business and functional literacy challenges to promote financial inclusion (www.ovamba.com).
About World Economic Forum: The World Economic Forum, committed to improving the state of the world, is the International Organization for Public-Private Cooperation. The Forum engages the foremost political, business and other leaders of society to shape global, regional and industry agendas. (www.weforum.org).
Media Contacts