Human Interest
Thieves Attack,Burn Hearse At Residence of NWR Trade Delegate,Warns Him to Back-Off
Bamenda,Cameroon
Some unidentified men have set ablaze part of a Hearse which belongs to Cletus Anye Matoya,regional delegate for trade and Commerce for the North West who doubles as CPDM sub section President for MEZAM l.
The victim confirmed saying they came around 2 am Wednesday June 7,2017, and gave his dog fish to distract it before carrying out the act.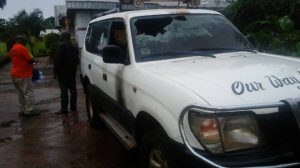 They set ablaze the front seat of the vehicle packed in the compound and dropped a note warning him to stay-off activities which would undermine the struggle of "Southern Cameroon".
It is alleged that the delegate was preparing for an offensive for those who have not paid taxes.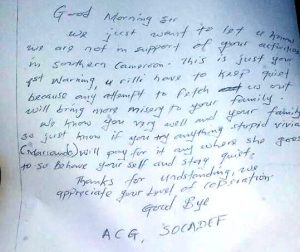 At the end of the letter is written  ACG SOCADEF whose meaning the victim cannot decipher.They have threatened to do away with family members of the delegate if he goes contrary to what they want.
Photo: Stella M