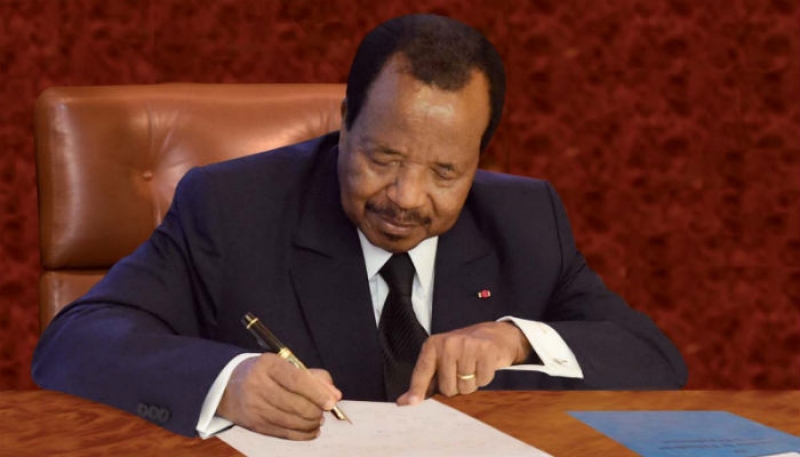 YAOUNDE,Cameroon-Thursday April 12,2018-7:00 PM Local Time(Cameroon News Agency)The President of the Republic according to the law, has appointed 30 Senators to complete the 70 elected during the March 25 polls, thus making a total of 100 members of the upper house of Parliament.The appointment Thursday April 12, has seen just few members of the previous mandate shown the door out of the Senate. Senators like Nfon VE Mukete , Sultan Mbombo Njoya and Marcel Niat Njifennji have been reappointed .
In the Northwest region, Senator Fon Teche was shown the door out while Regina Mundi and Fon Chafah have been appointed as new comers.
In the South West region,  Chief Anja Simon Onjwo, Leke Bessongo Akemfor were also appointed.
Contrary to views that Biya could appoint some SDF Senators for them to form a Parliamentary group, the Head of State ignored such a move, leaving only the ruling CPDM party with a Parliamentary group.
Complete List of 30 Senators Appointed.
Adamawa
Mohaman Gabdo, Moussa Sambo, Djaratou Mohamadou
Alternate
Alirou Mamadou, Daouda Oumarou, Mme Hadjidjatou
Centre
Nkodo Laurent, Mpongmoni Jean Marie, Mbida Mvondo Albert
Alternate
Bihina Eloundou Floribert, Abanda Metogo Valère, Abessolo Nomo Thierry Martial
East
Ze Nguelé Réné, Diwala Moni Hilarion, Aboui Marlyse
Alternate
Aleokol Jean Marie, Voumia Rigobert, Gbwa Zacharie
Far North
Mahamat Bahar Manouf, Dakollé Daïssalla, Babaya Chefchef
Alternate
Essena Mahamat, Daroue Jean Claude, Moustapha Halilou
Littoral
Madiba Songue,Etame Massoma David Siegfried,Ngayap Pierre Flambeau
Alternate
Essombadje Patrice, Celestin Ketchanga, Mme Ngossing epse Dikobo
North
Aboubakari Abdoulaye, Hayatou Aïcha Pierette, Boubakari Ousmanou
Alternate
Bouba Samari Bernard, Mohamadou Bayero Fadil, Nihi Dawaye
North West
Fon Doh Ganyonga III, Fon Chafa Issac, Mme Regina Mundi
Alternate
Djadje Manu Guy Dado, Atanga Charles, Aga Martin Kum
West
Mbombo Njoya Ibrahim, Ndjomo Kamga Honorée, Niat Njifennji Marcel
Alternate
Paboutam Mariatou epse Montapon, Kamdem Didier, Ouembe Ken Samuel.
South
Ngally Ngoua Pierre Henri, Menye Ondo François Xavier, Bisseck Paulette
Alernate
Mme Ndo Angeline, Edou Emmanuel, Oyono Robert
South West
Fon Mukete Essimi Ngo Victor, Chief Anja Simon Onjwo, Leke Bessongo Akemfor
Alternate
Mambe Aniece, Monono Humphrey Ekema, Mbou Lucie