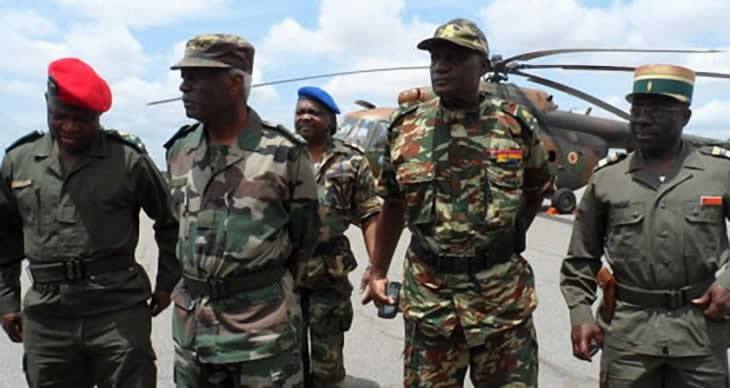 BAMENDA,Cameroon-Thursday April 12, 2018-9:00 AM Local Time (Cameroon News Agency) Cameroons  Chief of Army Staff, Lt General Rene Claude Meka has enjoined the Military fighting against armed Ambazonian fighters to avoid excesses on the population, by serving them with a human faces and reassure them that their security will be guaranteed. The  Chief of Army Staff said the military should stand by the laws of the land as they carryout their duties.
Lt. General Rene Claude Meka, Cameroon's Chief of Defense Forces was in the Northwest regional capital Bamenda Wednesday April 11, 2018 on s special mission to evaluate the situation on the ground and reach out to top aids in the region.
Bamenda is host to the Command Post of the 5th Combined Military and Gendarmerie Region of the West and North West regions, that is why Lt General Rene Claude Meka was accompanied in his mission by  the Coordinator of the National Gendarmerie Corp, Brigadier General Elokobi Daniel, the Commander of the 5th Military Region, Brigadier General Robinson Agha and the Commander of the 5th Gendarmerie Region, Brigadier General Jules César Essoh who all met the Governor of the north West region in a crucial meeting.
Before leaving, the  Chief of Army Staff said the population will play a big role in fighting against armed groups if they are indirectly implicated in the fight by giving out information to security forces which will help them in their quest to secure them.
Alleged military brutality has been the order of the day in the two English speaking regions with houses razed and military using live bullets on unarmed civilians especially those in areas attacked by Ambazonia fighters. The visit and caution of the Chief of Army Staff is expected to reduce the cold war between the military and civilians, a majority who have fled their houses and living in bushes for fear of reprisals.
———————————————————————————————————————-
If you like our updates, you can support us to enable us go further in our work. Support us now on +237 679 700 696 on mobile money or call for details. Thanks