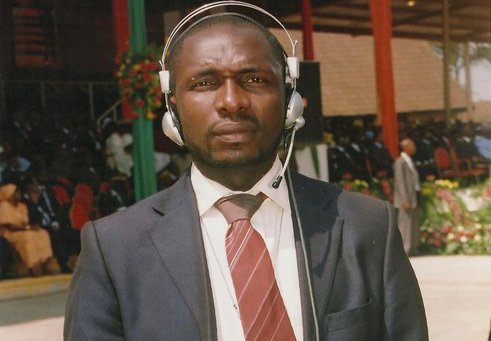 By NFOR Hanson NCHANJI
BAMENDA, Cameroon-Wednesday April 11, 2018-10:00 PM Local Time (Cameroon News Agency) Popular Bamenda based Pidgin news presenter, Akumbom Elvis Mc Carthy who works for Abakwa FM, a Bamenda based radio station in the North West region,will spend his second night at the Bamenda Central Prison this Wednesday as he awaits trial. He was taken to the Prison found in Up Station in Bamenda 1 Municipality Tuesday April 10, 2018, CNA has gathered.
The former Programs Manager at Afrique Nouvelle radio station in same town was arrested about Four weeks ago and taken to the Judicial Police for questioning. Friends and Colleagues say he was picked up after Police caught him videotaping an incident between Police officers and a taxi driver in the town of Bamenda. It is alleged he was commenting while filming the incident.
CNA cannot confirm reports that the Police found series of videos and transactions with issues concerning the Anglophone crisis in his phone.
Since the arrest of the host of Abakwa Neighbor on Abakwa FM, Akumbom Elvis McCarthy, it is total silence in Bamenda as media men and women certainly for fear of victimization have remained mute on the issue.
Not even the Management of Abakwa FM has issued a statement on that. A source told CNA that since Akoumbom was recruited at Abakwa FM, calls have increased on daily basis for his eviction or the Radio Station might suffer the consequences (We could not verify who used to make the calls nor the veracity of this information) It is said that the Pidgin news caster has been very critical on the Anglophone crisis since it started.
In a discussion with a Bamenda based Journalist, Ngongsong Jean Marie, said Akumbom Elvis Mc Carthy isolated himself from other colleagues, friends and was very hostile towards them especially when it came to meeting as an association, in this case CAMASEJ Bamenda.
A Journalist talking on anonymity, told CNA that the media landscape in the North West region is limping and very slippery as officials now walk with radio sets in their hands, ready to pick the next victim. The only thing to do in order to be safe, our source said, is to stay away from what people (Administrators) do not want you to talk on (Anglophone crisis)
Before his arrest four weeks back, Akumbom Elvis was seriously beaten by some unknown men in November 2017 which led to him being hospitalized at the Bamenda regional hospital. He later revealed he was visited at his Sisia residence in Bamenda by military men, CNA cannot confirm this allegation.
Wednesday will make 48 hours at the Central prison. The date for his trial has not been made known.