Society
Remember NDU June 6, 1992 : Revisiting Report of Amnesty International On Killings and Maiming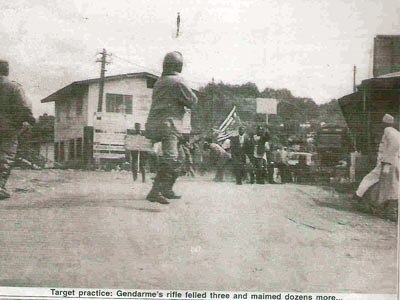 It is exactly 25 years today June 6,2017  since the gruesome incident in NDU sub division,North West region where Gendarmes storm markets killing and maiming according to Amnesty International.
An inquiry report on the matter has never been made public despite international pressure.
Report of Amnesty in 1992 
At least four civilians were shot dead by gendarmes in Ndu, in Cameroon's North-West Province, in early June 1992. There were also reports of detainees being tortured there. Amnesty International is concerned that the security forces seem to have used indiscriminate and excessive lethal force in their attempts to control civil unrest and that they subjected detainees to torture or to other forms of cruel, inhuman and degrading treatment.
The organization is calling on the government of Cameroon to institute an independent judicial inquiry into the incidents at Ndu with a view to bringing to justice those responsible for any human rights violations. The findings of any such inquiry should be made public.
A political rally to be held in Ndu on 6 June 1992 by a leading opposition party in English-speaking Cameroon, the Social Democratic Front (SDF), was banned by the authorities shortly beforehand. On 6 June gendarmes were sent to Ndu to recover unpaid taxes. Taxes have not been paid in some areas since a civil disobedience campaign in 1991 by opposition parties tried to force the government to convene a national conference on the country's political future. During that campaign, tax collectors were reportedly chased away from Ndu by local people. However, under the pretext of collecting taxes in June 1992, gendarmes reportedly used extortion and violence against the people in some areas known for their support of opposition parties. For six days from 29 May 1992 gendarmes reportedly launched assaults on the town of Bali in North-West Province, raping women and looting and destroying property, after the local population protested against extortion by gendarmes at roadblocks.
In Ndu, gendarmes and police sealed off the market area on 6 June, arresting about 50 people who could not provide tax receipts proving that they had already paid their taxes, and firing warning shots to disperse the angry crowd that gathered. Most of those arrested were subsequently released by the crowd or escaped from custody during the day. In the evening, when the gendarmes tried to leave Ndu with six remaining prisoners, they were attacked with stones and reportedly fired indiscriminately into the crowd, killing three people and wounding several more. Those killed were Anthony Tangiri, a court messenger, Joseph Yongla, a trader, and Glory Ngeh, a tradeswoman who died three days later from gunshot wounds. On the night of 6 June, local people burned the homes of three gendarmes in Ndu, and a policewoman married to a gendarme was reportedly stripped and beaten by a crowd. In reprisal, gendarmes broke windows of homes, stores and vehicles that night, and reportedly attacked the occupants of cars arriving in Ndu, killing one man, Hilary Bantar Njeta.
On 8 June gendarmerie reinforcements arrived in Ndu. Hundreds of residents fled with their families, but were allowed to leave the town only on presentation of their papers and tax receipts. Early on 9 June gendarmes started systematically looting homes and destroying property in Ndu, with no pretence that they were collecting taxes or tax receipts. Nearly every house and store had windows, doors and furniture damaged or burned. People who resisted were assaulted and women were raped, in some instances allegedly gang-raped.
On 9 June the gendarmes arrested up to 100 people, including children, reportedly kicking them and beating some of them with gun-butts. Many of the detainees were apparently SDF supporters. They were taken to the main road in Ndu where they were forced to strip to their underwear, crawl along the ground and throw their clothes on a fire. At a school building where the reinforcement gendarmes were stationed, detainees were held together in a hall where they were forced to strip completely and were subjected to sexual humiliations and, in some cases, torture. The men were then separated from the women and were kicked and beaten with gun-butts, belts and whips throughout the day before being released later in the afternoon or evening. Nearly all the detainees were reported to have been blood-stained and to have shown signs of injury.
Photo credit: Up Station Mountain Club