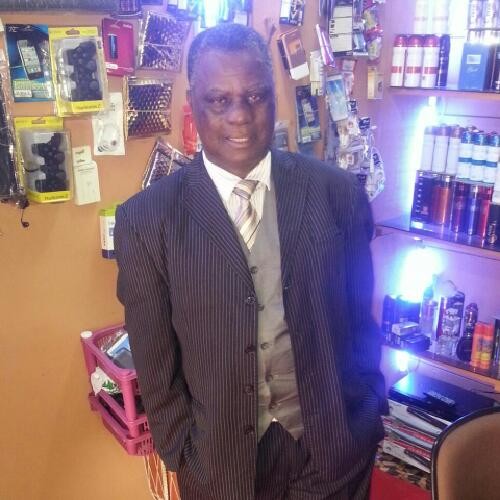 BUEA,Cameroon-Sunday April 8, 2018-7:00 PM Local Time(Cameroon News Agency) Human Rights Lawyer, Barrister Agbor Felix Nkongho also known as Balla has called on the group that kidnapped former Vice President of South West Appeal Court early Sunday April 8, 2018 in his village Ewelle, South West region, to release him with immediate effect.
He made the statement in a  release stating that abduction is no longer a business model in modern political concessions.
The President of the Centre for Human Rights and Democracy for Central Africa said, "Suppressing freedom of speech,association and attacking others with different views do not represent the values we ought to build.We must not be bullied into silence through the barrel of a gun by armed groups."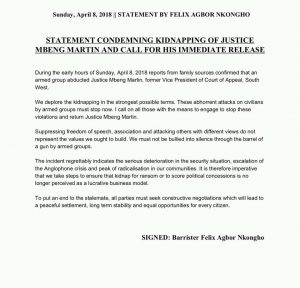 Barrister Agbor Balla urged the release of the Justice and called on stakeholders to find a common solution to the Anglophone crisis which to him is deteriorating with escalation of violence and kidnapping.
Justice Mbeng Martin was kidnapped by 2 am by some unknown gunmen during the funeral ceremony of his mother. It is suspected the men belong to the Ambazonia fighters.
The men are allegedly demanding ransom before his release.
---
CNA INNOVATION
Good morning dear Friends, I am glad again to announce that Cameroon News Agency is bringing something big in news circulation.
We have adequately acquired means to reach you with news alerts even when you are offline with CNA Updates.
*What is CNA Updates?*
This is an offline news alert through text messages. Subscribers will be able to get news about Cameroon and to an extend the world when they break-out.
You will be able to get the news wherever you are in the world. You just need to subscribe by sending your number to our team either through email at info@cameroonnewsagency.com or cameroonina@gmail.com.
You can also send directly to this number +237 679 700 696.
Subscription is 10 dollars for a month (5000 FCFA) with at least three news alerts daily and can be deposited through Mobile Money or money transfer.
*How Does CNA Updates work?*
It is very simple and just like any text message sent to any phone.
You will receive a message with heading *CNA Updates* with the news in the body of the message. But you will not be able to reply to the message.
CNA will use this week for trial. You can send in your numbers for subscription and get free news alerts for free, one week only.
*Why CNA Updates?*
Our aim is to make sure that news reaches your door step without going through mountainous problems of connection and contact log in.
Also in the quest of raising income for the Agency to improve on news availability, we think that it will be a Win-Win venture and a means of compensating for the work we do.
Thanks for your interest. Waiting for your numbers
The Publisher,
NFOR Hanson NCHANJI