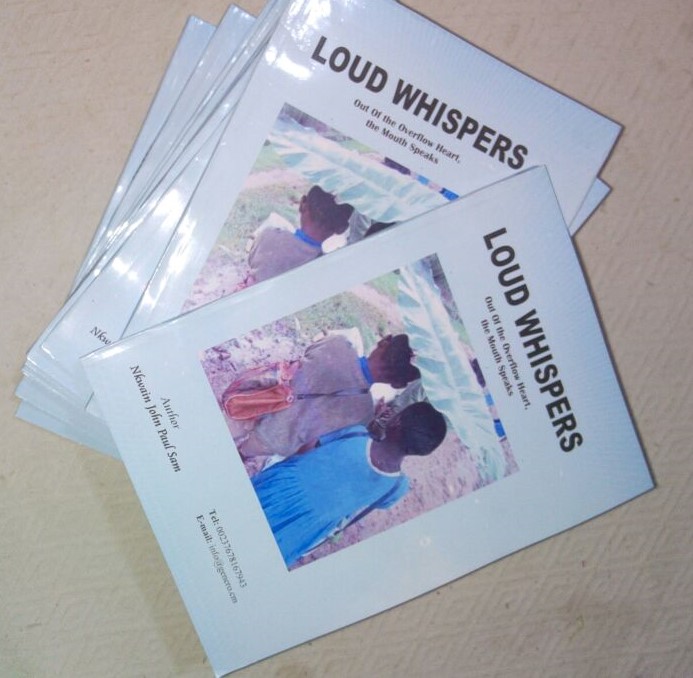 Douala,Cameroon
Reintroducing the reading culture in our Cameroonian context doesn't need any explanation because as it is often said,when you want to hide something from a Cameroonian,put it in a book. But Nkwain John Paul Sam is breaking this phenomenon by introducing quality literature for readers because one can only read what is of good quality in style,presentation and impact in life.
ABOUT "LOUD WHISPERS"
A lot of occasions and circumstances could be considered mundane if the protagonist or celebrant has no bearing or focus on their lives. The author of this magnum opus[1], a sprouting academia has proven himself to be a case study with his Epic Poems.
His growth and coming to terms with life's reality foist certain changes and responsibilities on him which though normal in the social set up, are definitely challenging and remain a continuous, tedious and bitter-sweet discovery.
Amidst all this, he has to remain a good example to his onlookers. He has to respect even nature. He has to nurture those who depend on him. He is not allowed to disappoint those who believe him. He has to adhere to conventional norms. Not every one plus one is two.   He has an arduous but rewarding duty which include abiding to the forces of nature and continuous faith in God. He is stoic but the search for ataraxia[2] seems mountainous. He thus wonders, marvels, is disturbed, mixed up, confused and at times tempted to land to despair.
He is a grown up and time does not wait on him.  What is his purpose in life? Are his dreams being realized? He excelled way beyond reasonable heights and has also fallen below reasonable depths, yet he keeps moving. His personal, social, and professional growth has been spellbinding.
The author from all indication has an unflagging sense of ambition. He has gone to places and his ambition is certainly going to propel him to soar to worlds and realms that hitherto appear beyond his reach. This urge makes him lose appetite and patience for any other activity which according to this visionary is a distraction.
As things get worrisome and in order to be at peace with a lesser load, this author has one major task – to unleash some of the loads he is currently moving with; the secrets and discoveries gathered so far on his earthly journey. He is that barber who alone has seen the donkey ears of King Midas. Keeping the secrets of King Midas to himself has been driving him crazy. And since he can never tell a soul, his heart gathers and gathers, stores and stores, then outflows its brim and begins to pour.
The words start oozing out from his lips in the form of whispers and even get loud – Loud Whispers.  He thus uses poetry as the best means to examine, take stock and judge what he has experienced, seen, felt and achieved ever since he started his life's journey.  He keeps whispering in an attempt to make sure no one hears, talk less of having to understand. He has just whispered and the themes are alike – "King Midas has the ears of an ass". This poet now feels much better and continues his journey amidst the discoveries.
From every indication, poems are a kind of urgent and comforting storytelling. The Poems found in here are revealing and are the kind of stories we need every day. Discover the African nature, forms, terminology, and techniques used. The thematic expressions are indicative. Follow the epic situations and see the picture in words. Feel the situations as they speak to you. The sarcasm are biting. Other scenes are hilarious and laughter fills the air in a few. Learn from them and heal yourself too if you are on the same journey. Remember, Poetry is healing.
The poems are 101 and the author should definitely be continuing his journey, being guided by the admonition of Friedrich Nietzsche; "He who has a 'why' to live for, can bear with almost anyhow." We are anxious and hope to get a lauder whisper when his heart next overflows.
Nkwain John Paul Sam
Poet
………………………………………………………………………………………………….
ABOUT THE AUTHOR
Nkwain John Paul Sam is a poet. He is the founder of Genero J Genero (www.genero.cm). The guy is a multi-talented think tank. He has years of experience in writing and his works reveal several interesting scenarios, bring out history, culture and life's realities in a very glaring literary style which keeps any reader awake and wanting more.
He holds a degree in Philosophy, and MBA in Management and has a wide variety of professional and academic experience. He moves around the world giving talks and conferences. He is Author of several Books on Business,Marriage and others.
This book is sold only at FCFA 2500 and can be gotten directly from author through his facebook address which is his name and or contact CNA on info@cameroonnewsagency.com or  contact +237 662 395 524