Sports
Real Madrid Beats Juventus 4-1 to Win Back-to-Back UEFA Champions League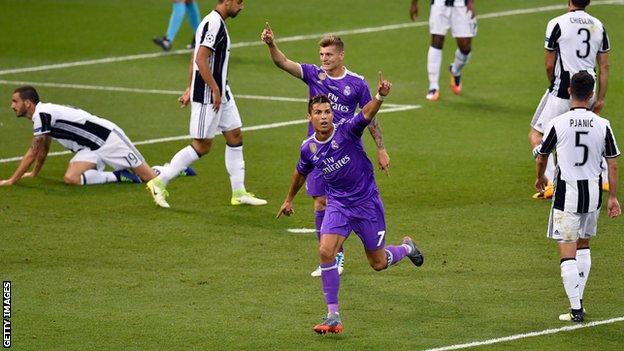 Real Madrid has won it's 12th title by beating Juventus 4-1 in the finals Saturday in Cardiff,Wales.
With two goals from wonder-boy Christiano Ronaldo,the Spanish side was able to sail through for the first time for a team to repeat in the Champions league era.
It also became the first team to win Consecutive titles in the competition since AC Milan in 1989 and 1990,when the tournament was known as European cup.
Ronaldo scored in each half, and on similar plays — clinical finishes inside the penalty area after he had found a pocket to receive a pass from a teammate on the right wing. Casemiro scored Madrid's second goal, on a 30-yard shot that deflected off the heel of a Juventus defender, and the 21-year-old substitute Marco Asensio added the capper by turning in a cross in the 90th minute.
Mario Mandzukic scored a memorable goal for Juventus on a scissoring shot midway through the first half, but it wasn't nearly enough. Juventus lost in the final for the seventh time, another record. It was the third defeat in the final for Gianluigi Buffon, its veteran goalkeeper, and denied the 39-year-old fan favorite the one title he covets most in his career.
With Additional reports from New York Times