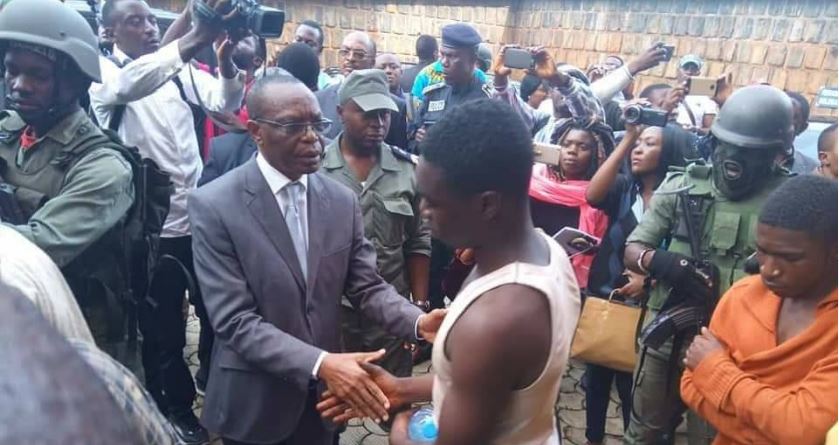 By Neba Jerome
Bamenda, North West -Wednesday November 7, 2018-8:30 PM Local Time (Cameroon News Agency) Among the 83 students, staff and driver kidnapped  last Monday November 5, 2018, from Presbyterian Secondary School Nkwen, in Bamenda, North West region of Cameroon, 78 students and the driver were released Wednesday November 7, 2 students and two staff, all women, are still in captivity, CNA has gathered.
At the North West governor's office where the children were brought in by securing forces, the Governor , Lele L'Afrique Adolphe thanked the collaboration of all and sundry for the release of the students, " God has made it possible today for us to welcome back our children and thanks to the professionalism  used by the educational family and the security forces, the population and the administration".

The atmosphere was tense at the delegation for secondary education where a press briefing took place.  Parents were curious to hold their children and take them home. " I have not been sleeping for the past three days, she must go home with me now whether these people like it or not", one of the parent told CNA.
This tension increased when it was announced that four people are still missing, the principal, teacher and two students. The governor assured the parents and the school authorities that security forces are doing their best to trace the four and the know exactly those who  kidnapped them.

By 3:30 pm, 66 students were taken back to the school campus while 12 were under medical attention at the Bamenda regional hospital.

In front of the school gate that was locked, there was total commotion as parents were eager to hold, chat with their children and even take them home. " I want to hold him, feel and to ask him questions when we retire home, "  A mother said with smiles on her face.
 "We have not been given the opportunity to talk with them and as I stand here, am taking him home", another lamented.

Parent were later asked to present the national identity cards and turn their phones off, before access was given to them to enter the school campus.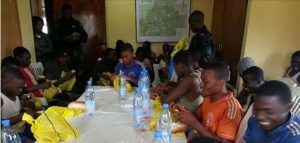 There is likely to be no school again at PSS Nkwen, at least for now, but  PCC Moderator says Parents will decide, "parents are waiting out of the school campus to take their children home and in that implication, there will be no schools for us but if we talk with them and they listen and hear us out, school might continue".

The kidnapped students are from other Presbyterian secondary schools such as PSS Batibo, CPC Bali, PSS Bafut who were merged in PSS Nkwen as a result of the insecurity in the above mentioned subdivisions.
They were kidnapped at gun point at PSS Nkwen, in the Bamenda III Subdivision, taken to an unknown destination and later abandoned at the premises of Presbyterian Church Nsem in Bafut Subdivision on Tuesday November 6, 2018 between 9:30 to 10:00 PM by the kidnappers.
It remains unclear who kidnapped the students from campus, while Ambazonia leaders are pointing accusing fingers at the government, the latter has also accused the former of carrying out the kidnap.
Many are wondering how a group of boys fighting with Dane guns could possibly kidnap over 80 persons and transport them to a distant area without the knowledge of soldiers when Bamenda is under curfew.