International News
Pope Francis Calls For Unity and Fraternity Among Muslims and Christians In Egypt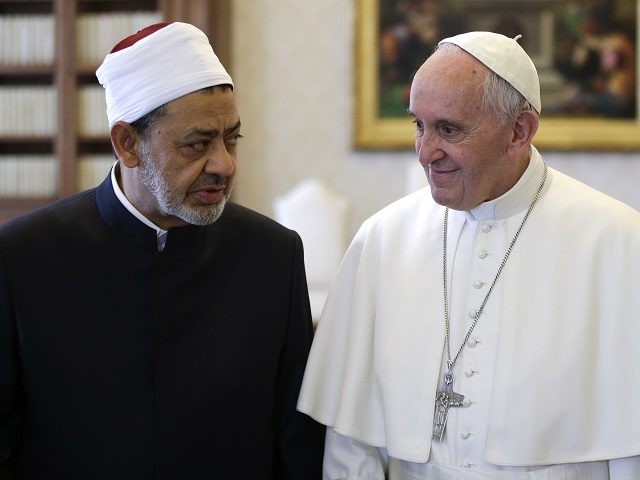 Pope Francis has enjoined Egypt's main imams on Friday April 28, 2017 to teach their students to reject violence in God's name and preach messages of peace and tolerance instead, forging ahead with a delicate visit to the Arab world's most populous country following a spate of deadly Islamic militant attacks against Christians.
Francis arrived to a subdued welcome and a heavy police presence at Cairo's international airport. But he brushed off security concerns by driving into town with his windows rolled down in a simple blue Fiat — not the armored "popemobiles" of his predecessors.
Francis has said he wanted to bring a message of peace to Egypt, which has been enduring an increasingly emboldened insurgency led by a local affiliate of the extremist Islamic State group.
In a speech to President Abdel-Fattah El-Sissi and diplomats from around the world, Francis strongly backed the Egyptian government's crackdown against the militants, saying Egypt had a unique role to play in forging peace in the region and in "vanquishing all violence and terrorism."
Francis' major event of the day was a landmark visit to Cairo's Al Azhar university, the revered, 1,000-year-old seat of Sunni Islam learning that trains clerics and scholars from around the world.
ABC news reports that  he warmly embraced Sheikh Ahmed el-Tayeb, Al-Azhar's grand imam who hosted the pope and other senior Muslim leaders, students and scholars at a peace conference. The conference center featured a mock-up of the famous Al-Azhar mosque, complete with faux windows and flooded with purple lights.
Speaking to the crowd, Francis recalled that Egypt's ancient civilizations valued the quest for knowledge and open-minded education, and said a similar commitment to education is required today to combat the "barbarity" of religious extremism among the young.
While Al-Azhar has strongly condemned Islamic fundamentalism, Egypt's pro-government media has accused its leadership of failing to do enough to reform the religious discourse in Islam and purge canonical books from outdated teachings and hatred for non-Muslims.
"As religious leaders, we are called to unmask violence that masquerades as purported sanctity," Francis said to applause from the crowd. "Let us say once more a firm and clear 'No' to every form of violence, vengeance and hatred carried out in the name of religion or in the name of God."
"To counter effectively the barbarity of those who foment hatred with violence, we need to accompany young people, helping them on the path to maturity and teaching them to respond to the incendiary logic of evil by patiently working for the growth of goodness," he added.
El-Tayeb thanked Francis for what he called his "fair" comments against charges of terror and violence leveled against Muslims and Islam.