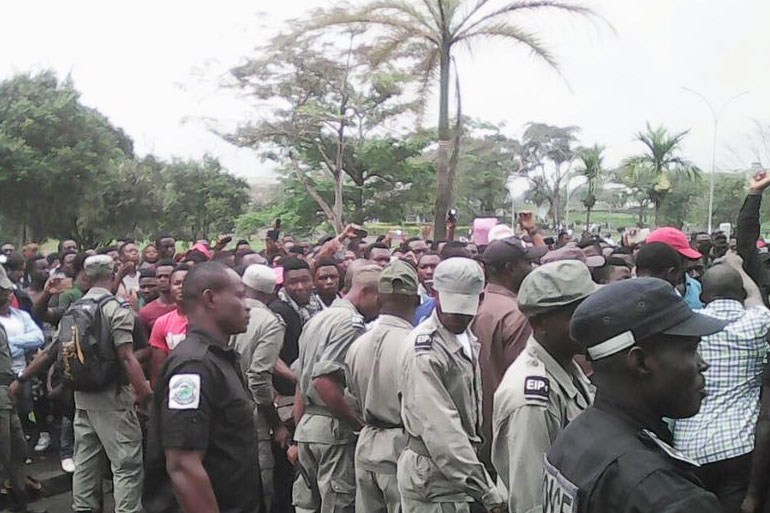 Five months after the unrest in the university of Buea, an uneasy calm still reigns on campus. The current school boycott called by Separatist fighters has paralyzed activities in school. Some lectures are taking place in unconformable conditions because lecturers fear, Ambazonia fighters could storm the institution at any moment.
Just one week after Mancho Bibixy and co staged a protest in Bamenda on November 21, 2016 , the students in UB also rose to denounce injustice on the part of the Vice Chancellor, Dr Nalova Lyonga.
Police molested, arrested and used tear gas on some striking students in the University of Buea. Security forces deployed on Campus of the institution Monday November 28, 2016 transformed the students into punching bags. They also ransack surrounding hostels in areas like Dirty South, Malingo, destroying belongings of students.
Tear gas was used on and off campus including water cannons to disperse the striking students. Several students were arrested and taken into custody in police cells while Christopher Tambe Tiku, Secretary for Human Rights in the South West Region is alleged to have been brutally treated by police when he attempted to intervene in arrest cases.
Some of the instigators like Kum Nelson, Lyonga, Nadege Kessey Akom, Emilia Nahbit, Konyuy Ernest including dozens of female and male students were apprehended. Most of the student leaders who called the strike could not be identified because they did not mention their names in the signed communique.
Gathered in front of the Administrative building of the University of Buea, the students were denouncing the payment of 10,000FCFA as late entry for registration, the delay in the payment of the Presidential Grants to meritorious students. The striking students were also chanting, "We want UBSU, we want UBSU," referring to the University of Buea student Union which is believed to have been crushed by the Nalova administration.
The strike Monday paralyzed activities on campus especially the start of Continuous Assessment, CA that was announced for November 28, 2016.
The Vice Chancellor of the University of Buea Dr Nalova Lyonga whom the students accused of being at the center of the crisis is reported to have been heavily guarded while the Director of Student Affairs Dr Molindo is said to have vanished when after failing to calm down the furious students.
University authorities are reported to have released a communiqué informing the students that the ministry of Higher Education is yet to disburse money for the Grants.
Weeks after, most of the students arrested were appeared in court on several occasions before being released.