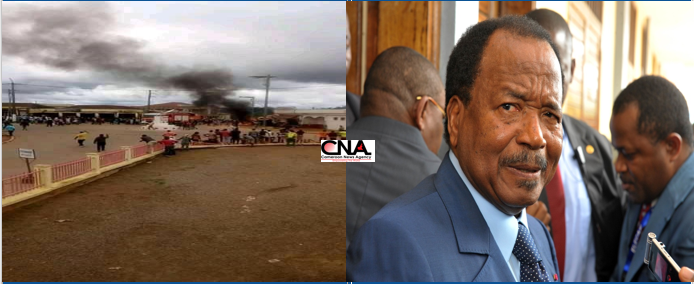 From an inter-community conflict, protesters and indigenes of Sangmelima, are now calling for the release of prisoners who originate from the South region. CNA correspondent said the demonstrators vowed to continue the campaign, adding that if Kamto is freed, then all bigwigs from the region currently in jail need to be freed too.
Armed with sticks, machetes, some youths in Sangmelima, President Paul Biya's hometown, have on Thursday, October 10, 2019, continued destruction of shops and houses belonging to Bamouns and Bamilekes from the West region.
For the first time, the SDO for Dja and Lobo, Koulbout Aman David, has recognized that the situation has escalated into an inter-community conflict.
The conflict started on Wednesday when the death of an indigene of Sangmelima, stirred an uproar as the indigenes accused non-indigenes of committing atrocities in the town.
But on Thursday, the song oof the youths changed to the liberation of all prisoners from the South region.
Thursday's protest was more violent. The protesters have promised to stop children from going to school until their demands are met. In Otoakam, some youths from Bamoun and Haoussa also came out in revenge after their shops were destroyed by the locals on Wednesday.
The Governor of the South region will on Friday hold a crucial meeting with stakeholders in the region to bring peace to the ongoing tug-of-war between communities which is gradually being transformed into political upheaval.