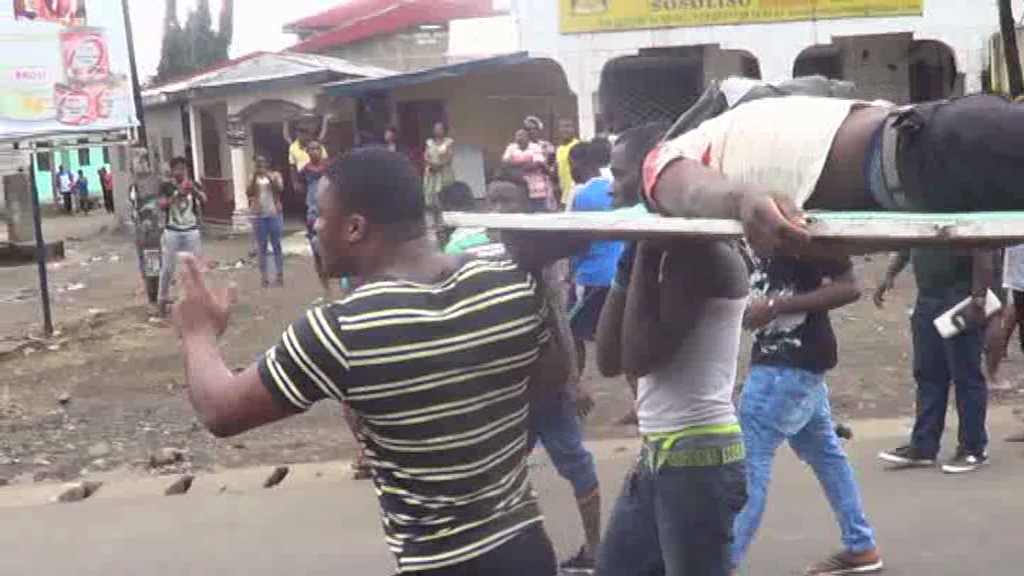 By Nfor Hanson Nchanji
Douala, Cameroon-Friday September 29, 2017-1:00 PM Local Time (Cameroon News Agency) The governors of South west and North West regions have put in place stringent measures to crack down any protest come October 1 in the two regions.
Bernard Okalia Bilai of the South West region on Thursday September 28 issued a release prohibiting circulation of Commercial motor bikes from Friday 29 to Monday October 2, 2017.
The prohibition of movement of persons and suspension of inter-urban transport between the different towns and localities. Mr Okalia Bilai who referred to protesters as "dogs" has also ordered the closure of all bars, off licenses, snack bars and night clubs among others.
In the North West region there is systematic search of persons especially those coming from the Mamfe-Ekok road leading to Hospital round-about.
Anybody without a national identity card is simply held behind bars until he does so.
In Buea, considered as independence ground all entrances are heavily guarded by military, police and Gendarmes showing no mercy to defaulters
In the midst of these measures, the population of these two regions are determined to march of October 1 with a detailed program from the oversees controlled SCACUF led by Sisseku Ayuk.
It is this growing tension coupled with a bitter letter written by Barrister Akere Muna to the United Nations on eminent genocide that the UN decided to caution both parties to avoid escalation of violence
Secretary-General 
Statements and Messages
Deeply Concerned about Cameroon Situation, Secretary-General Urges All Parties to Refrain from Actions that Could Escalate Tensions, Violence
The following statement was issued today by the Spokesman for UN Secretary-General António  Guterres:
The Secretary-General is deeply concerned about the situation in Cameroon, including with regard to the recent security incidents in Bamenda and in Douala, and mounting tensions in the south-west and north-west regions related to planned events on 1 October. The Secretary-General has encouraged the Cameroonian authorities to continue their efforts to address the grievances of the Anglophone community. He urges the authorities to promote measures of national reconciliation aimed at finding a durable solution to the crisis, including by addressing its root causes. The Secretary-General supports upholding the unity and territorial integrity of Cameroon and urges all parties to refrain from acts that could lead to an escalation of tension and violence. The Secretary-General believes that genuine and inclusive dialogue between the Government and the communities in the south-west and north-west regions is the best way to preserve the unity and stability of the country.
The Secretary-General stands ready to support these efforts, including through the United Nations Regional Office for Central Africa (UNOCA).