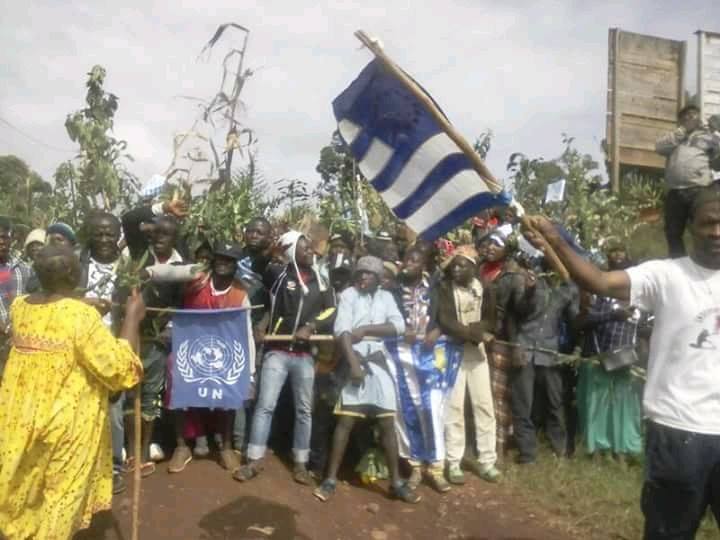 Douala, Cameroon-Monday October 2, 2017-2:00 PM Local Time (Cameroon News Agency) A nongovernmental organization specialized in human rights issues in Africa , REDHAC  has put over 32 deaths, as  death toll in Sundays showdown between the people of the two English speaking regions of Cameroon and security forces.
Sunday October 1, 2017 was an exceptional day in former west Cameroon, which 24 hours ago declared its independence in a brutal confrontation with security forces. The commemoration of Independence of Southern Cameroon was exceptional in the sense that never has the government allowed a single person out during such events, but this year, even the ruling Cameroon Peoples Democratic Movement, CPDM joined in the celebration.
The CPDMs attempted manipulation according to opposition party was described by secessionists as helping them commemorate the day. Party bigwigs organized rallies in Bafoussam, Douala and Yaoundé calling on a one and indivisible Cameroon. The rally organized by Members of Parliament was boycotted by their opposition peers.
As the CPDM 'Reunification' rally was ongoing on hitch free with speeches, feasting, blood was been shed in the two English speaking regions of Cameroon.
'Dogs', as described by South West governor, Okalia Bilai referring to protesters, defied administrative orders and marched out in numbers on different streets across the two regions. They marched with peace plants announcing the end of an era and the dawn of a new one, the liberation of Southern Cameroon. But the peaceful protesters were chased by security forces that first used water cannons and tear gas and later live bullets.
Those who marched from Mile 4, Mutengene, Ekona, Tiko, Muyuka to Buea were met with resistance from mixed security stationed in all corners of the town.
Military helicopters hovered over the protesters watering them with itchy liquid but this will not stop them.
Great Soppo in Buea, seemed to have been the battle ground with shots that lasted for more than four hours, many were shot with live bullets while others who could not stand the shock went into hiding, a local wrote to CNA, saying "We are now under the bed, it is hot here, I just peeped through the window and saw how they were arresting randomly."
In Fiango, Kumba in Meme division of the south west region, several persons were also shot dead after "Ambazonian" flags were hoisted in major junctions .Gun shots also lasted for hours leaving locals panicking, a 12 year old girl was shot by a stray bullet while at home, a witness recounts to CNA, "It seems like they trying to hoist a flag here in Fiango Three corners and it's like Police have just arrived and using tear gas to disperse them, oh! It seems they are now fighting, we are all indoors." The number of casualties cannot be independently confirmed but half a dozen are said to have been shot.
In Kumbo, Bui division of the North West region, at least five prisoners were shot dead in an attempt to escape following a fire incident which took place amidst rising tension. Two people were shot in Ntarikon, Bamenda early Sunday while others received bullets in the course of the day on major streets. At least three are reported to have died.
There was also bloody confrontation in Tombel, Kupe Muanenguba division in the South West region, as the people marched to the Fons palace, they were dispersed with tear gas, they reacted by setting ablaze the locality's court . Police shot live bullets and at least half a dozen fell.
There were shots in Ekiliwindi in Meme division and other areas.
President Paul Biya while abroad wrote on his official Facebook page calling on both parties to restraint from violence and embrace dialogue.