Front page
Politics
No Retreat, No Surrender, From Defensive To Offensive Strategy, The way Forward In 2019-Dr Samuel Sako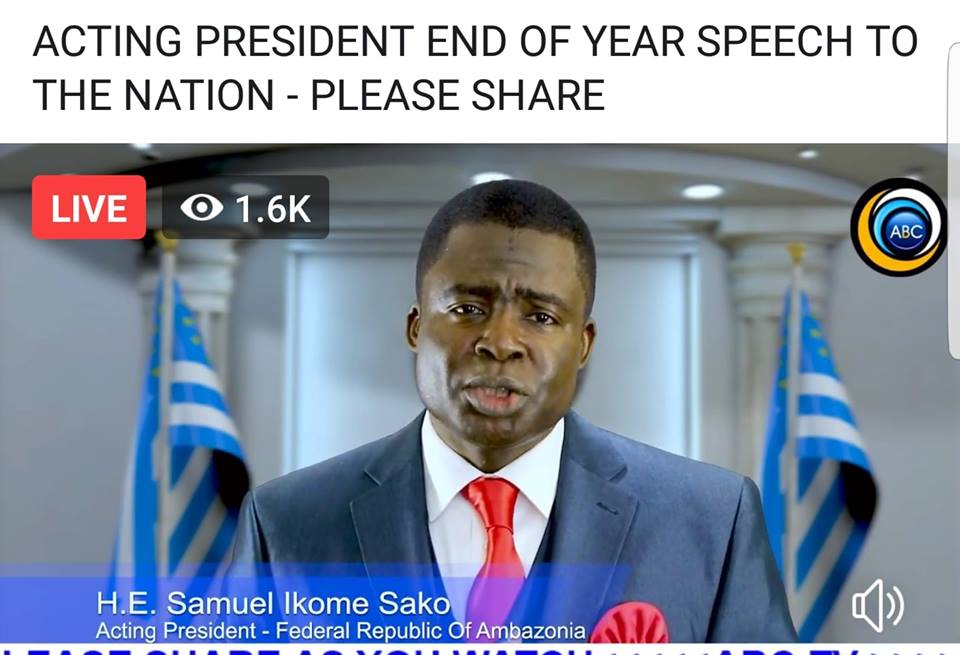 The Acting President of the "Federal Republic of Ambazonia", former British colony, Southern Cameroon, Dr Samuel Sako, has said though the year 2018 has been hectic and challenging; collective efforts and determination to restore statehood has kept the people poised, focused and strong against Paul Biya and his forces.
Dr Samuel Sako said in 2019, the Interim Government will shift its strategy from being defensive to offensive and bleed the occupier. The campaign launched dubbed My Trip to Buea, according to Dr Sako, yielded fruits and money donated have served several ways in the struggle.
He lamented that more than 8000 people have been killed, 4000 jailed and more than 50,000 and hundredths of thousands as Internally Displaced Persons, IDP, concluding that only a self defense move will stop soldiers from further killing the people. The Ambazonia Security Council, he said has gowned 10-fold as many young men are no becoming conscious of the need to defend their homeland.
Creation of Mobile Wing Police
Dr Samuel Sako said the former Mobile Wing Police before independence will resurrect with main objective, secure the territory of Ambazonia and fight against fake self defense groups and government militias.
War On Abductors, Ransom Taking
The Acting President of Ambazonia, strongly condemned all groups involved in kidnapping fellow citizens for ransom, killing of fellow country man which according to him paints the revolution black. He has said, there will be zero tolerance for such practices. Dr Samuel Sako said no person in the diaspora should have a self defense group on the ground. "All self defense groups must be handled by ground zero" he said.
Diplomacy
Dr Samuel Sako in his end of year message said, the revolution has scored goals in 2018 especially recently with the international involved in the armed conflict more than before. He cited the Us, the UN Security Council, the UK, Canada and other countries as well as their parliaments that have been on the neck of their governments to intervene and save lives.
He said through the diplomacy of force, they have been able to convince the Confederation of African Football, CAF, not to grant Cameroon the rights to host the 2019 Africa cup of Nations, AFCON. To him, it was a big win that CAF sanctioned Cameroon based on security reasons. "Who will be secured if an incumbent cancels his trip because of security reason?" He questioned.
About Anglophone General Conference
The Acting President said the AGC conference can only hold if the diaspora is involved and they will choose the venue of the meeting, without which he threatened, they will make sure nothing holds in Buea in the name of the AGC, initiated by cardinal Tumi.
Appraisal, Unity
He praised Activists and gave them a pat on their backs but cautioned that not everything about the revolution should be posted on social media, "It is not everything that the eye sees that the ears must hear…It will destroy the house." He cautioned.
According to him, unity should be the watch word in 2019. He called on all political parties and other groups to join heads together and fight the common enemy rather than fighting amongst themselves.
Court Case Against Tapang Ivo
A recent court case against the Spokesman of Ambazonia Defense Forces, Tapang Ivo Tanku has been described as a no event by Dr Sako. He said any court case against one person is a court case against all Ambazonians. He cautioned the plaintiff to address them as British Southern Cameroons when they meet in court in the US.
January 5 has been declared Justice day according to the Acting President. It is a day in which the Interim President, Sisiku Ayuktabe and 9 others were 'kidnapped' in Nigeria and taken to Cameroon and have been under detention for one year now.