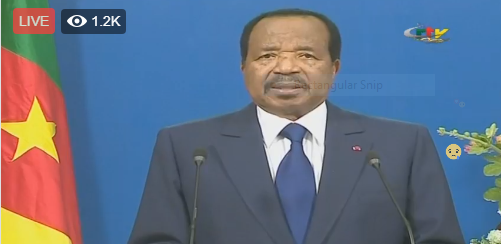 Ambazonia fighters in the North West and South West regions are giving Yaoundé sleepless nights but President Paul Biya has said it will not last for long. The Chief of the armed forces has strongly condemned their activities but failed to call soldiers sent to the regions to order. Soldiers have recently been engaged in killing the local population, the same people they have been sent to protect.
In his traditional end of year message on Monday December 31, 2018, Mr Biya said insecurity in these regions is the main thorn in the flesh of the State but emphasized that they must be eliminated.
Dialogue With People of Goodwill
President Biya in his speech said he was ready for dialogue but with 'reasonable people" people of goodwill but did not say which class of people nor group he wanted to dialogue with.
If Armed Groups Fail To Drop Weapons, Military Will Eliminate Them
President Paul Biya said, soldiers are on standby, ready to invade and eliminate all members of armed groups existing in the North West and South West regions, if they fail to drop their weapons.
He said the creation of the Disarmament, Demobilization and Reintegration, DDR, is aimed at welcoming those who will repent and drop their weapons, failure to do so, he said, will be met with extreme resistance.
Decentralization
Mr Biya said the people of the two regions are gradually understanding and witnessing the importance of decentralization, which according to him, is very effective in the areas.
Globally the Head of State said the coming years will be challenging for Cameroonians, but that priority will be on security, improving on growth rate and ameliorate the living conditions of Cameroonians.