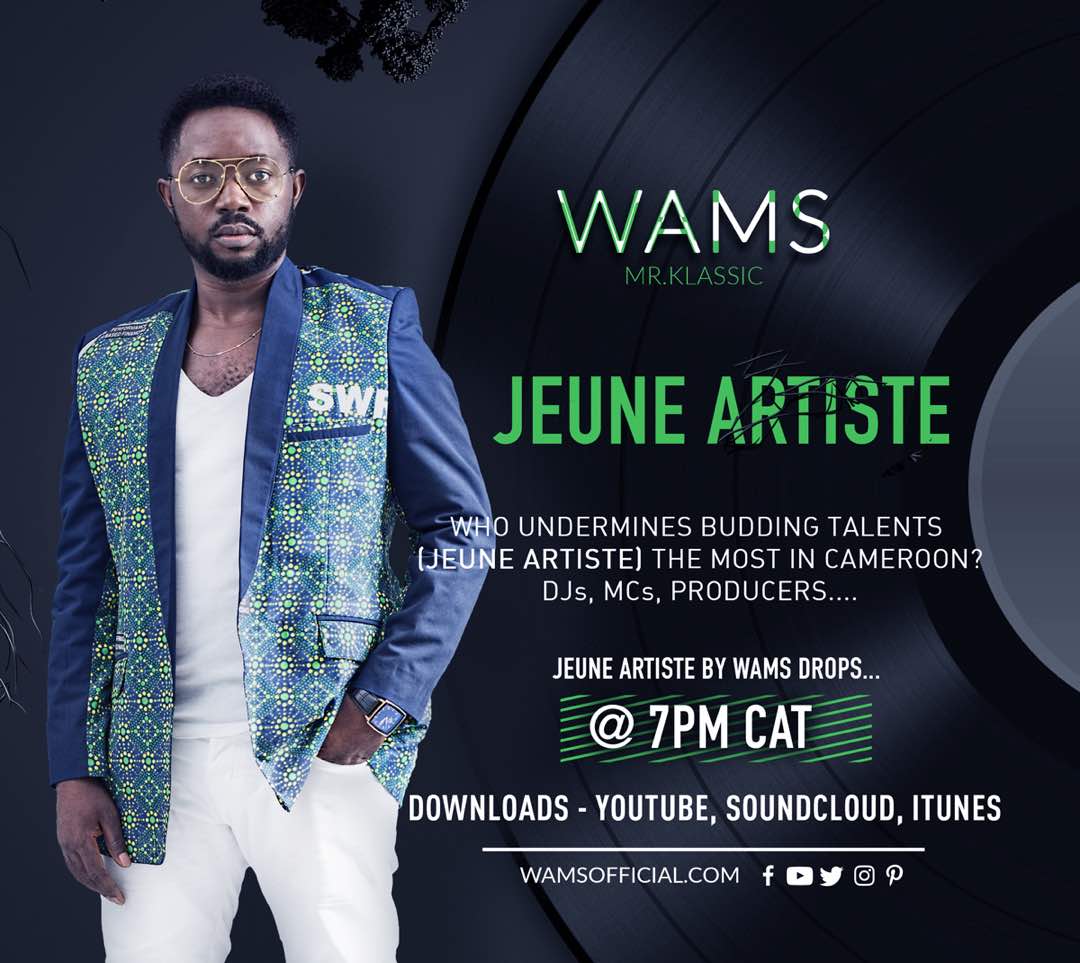 Cameroon's green music Ambassador, Anjianjei also known as Wams (Mr klassic) has just released the video clip of his much awaited hit single, titled "JeuneARTISTE". This song is special and unique for two reasons; it is originally carved out of 'graffi' folk 'bottle dance' rhythm and sung with fresh RnB mellow vocals on a 'DJ cliff' produced urban beat called "Bottle Soul".
JeuneARTISTE tells the tale of the struggles of every growing musician in Cameroon and developing countries. This song premiered on Boom Television's "ACCESS AFRICA" and has been rated by @donjumper, @titivalery, @cyrilbojiko @presidenttchotchop as being one of the most original urban music pieces in recent Cameroon music history.
The chorus of the song has been used by telephony companies as default dial tone only days after it was released. "quand t'es JeuneARTISTE OH, personne ne veutt'ecouter", is being recited by youngsters in almost every household in Cameroon.
According to Wams, this song was inspired by a personal experience and those recounted by other budding talents.
He is using the JeuneARTISTE campaign to galvanize young people towards building a sustainable music career despite the challenges. He is hoping to empower 10 budding talents randomly picked from across Cameroon during his tour of the regions.
Prior to the release of JeuneARTISTE, the "Journalist cum Singer" had sent a strong signal of how message – carrying and positive influencing his music would be after his maiden classic "Newsman" was released in 2017.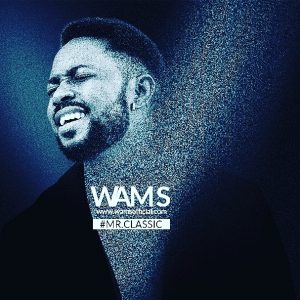 The song earned him titles and has continued to raise awareness on the threats to Press Freedom in third world countries.
Wams is based in Douala, a Cameroonian from the Northwest of Cameroon, born in Buea to a family of 10. He is currenttly CamerGreen music Ambassador after he finished second amongst 200 contestants with his song titled "Earthsong" that promotes best environmental practices.
Wams is looking to drop an EP by the end of July prior to the release of his debut album. He calls his fans "Clap Dancers". You might want to join his thousands of fans and support his "build a toilet for the orphans" Initiative through his social media sites: Youtube – Wamsmrklassic,  Facebook – @wamsofficiel , Instagram – @wamsofficial, twitter – @wamsbookings, whatsapp – +237676335224
                      Who Is Wams?
Wams grew up with his uncle El Chic Echondong alias Amumba, a celebrated highlife musician from Cameroon. He learned basic music theory and watched his uncle play the guitar and has since then followed in his footsteps. During rehearsals, his uncle's band would give him a chance to interpret American blues songs and some contemporary African hits at the age of 15 to the appreciation of many.
Wams would thrill his school mates in high school as he performed in a small school band called the Roonians of BGS Buea.
He started making a name for himself when he released his debut single titled Amingya meaning 'Hello' in his native Ngie dialect.
After a Bachelor's degree in Journalism and Mass Communication, from the University of Buea, Wams developed interest in writing theme songs for movies, documentaries, and community based campaigns. The first was his afro – soul piece Africa love that was used as theme song in Paul Samba's Too Deep.
Wams beat 200 contestants with his soul piece, EARTHSONG, at a United Nations organized contest for music on the environment to become Cameroon Ambassador for green music 2017.
Since then, he has used his music to promote sustainability amongst young people.
After 6 years of Journalism practice, Wams put the ills of Journalism practice in 3rd world countries like Cameroon into music in his maiden official release called Newsman. Wams reveals his mellow vocals on different music genres as interprets popular songs with his music band called CARNIVOR and has become a leading vocalist, song writer and singer in Cameroon.
Wams touring schedule is increasing relentlessly and he is finding himself more in demand in venues around Cameroon and Africa.
Wams website can be found on wwww.wamsofficial.com and provides details on his videos, shoots, tour dates, photos and the opportunity to sign up to his mailing list and join his social media channels.
Wams was born and named Anjianjei Constantine on September 15 in Buea of the Southwest region of Cameroon to a family of 10. He is a spiritually open Christian. He believes that music could better and not change the world, if used to promote a good cause.