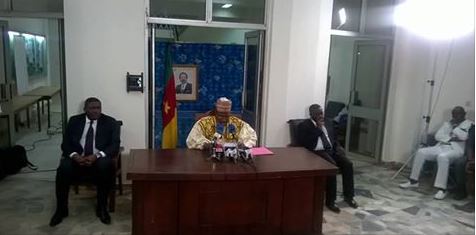 YAOUNDE,Cameroon-May 29,2018-11:30 AM Local Time(Cameroon News Agency) Issa Tchiroma Bakary,Cameroon's Minister of Communication, has told the Press that the over two dozens of youths killed in Menka,Pinyin in Santa Subdivision, Mezam Division in the North West region were terrorists who had been terrorizing the entire population of the village for days.
He made this statement in Yaounde days after the event wherein several newspapers, Radios and Television channels had given diverse reports on what had actually happened.
Several sources gave different accounts on what happened but they all pointed to the fact that few days to the killings, the youths had wreak havoc on the population of Menka. They allegedly demanded for money, food stuff, valuables at gun point.
Mr Tchiroma said it was the same population that reported the acts to the Divisional Officer of Santa, before he alerted security forces.
They then invaded the village early Friday and killed dozens of the youths, took away ammunition, guns and hostages, Issa Tchiroma told the Press. He said about 30 Gendarmes together with Special Security Operation squad Soldiers carried out the mission which lasted for about three hours following a shoot out from both sides.
He said the "terrorists" killed five hostages failing to surrender leading to the death of 27 of them. Short guns were seized, 17 war weapons , 10 hunting weapons,2000 ammunition, 30 Military uniforms and five berets belonging to the Gendarmes killed.
It remains unclear whether the youths were set up as suggested by observers, it is still unclear whether they were Ambazonia fighters today referred to as "terrorists".