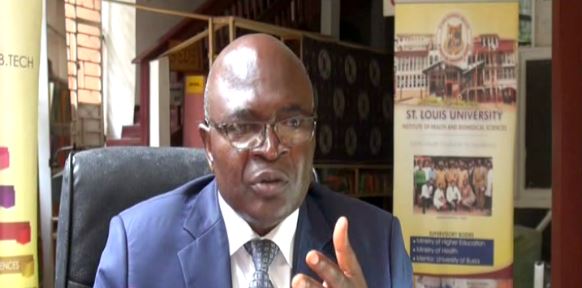 BAMENDA,Cameroon-Thursday May 31, 2018-11:49 PM Local Time (Cameroon News Agency) Dr Nick Ngwanyam, member of the ruling Cameroon People's Democratic Movement, CPDM, in the North West region of Cameroon has suggested to the National Bilingualism Commission, the creation of a Transitional Government before subsequent elections.
The neurosurgeon cum politician made the suggestions during the visit of members of the National Commission for Bilingualism and Multiculturalism,  at the PCC Ntamulung multipurpose house Thursday.
To Dr Nick, putting in place a transitional government , creation of a federal system of government will solve the chronic Anglophone crisis.
Read His Take 
The President
Bilingualism Commission
Bamenda 31st May, 2018
Dear Sir,
Some Suggestions To Take To Government
NEED FOR FEDERALISM
The Bamenda City Council is very dirty. As we speak, there is a lot of grass all over the whole place. After this meeting I invite all of us to go there and see for ourselves. In fact we can hunt for antelopes and snakes out there. If you were to go there for a wedding, there will be no place available to take a nice picture. That is why there was the 'coffin revolution' because of poor management of the city. That is why there are ghost towns and more.
That is why Mancho and others are in prison because they complained in the loudest way about poor governance and they became the victims. That is why many people did not want to come here and participate because government punishes the messenger and does nothing about the complaint. In fact as we speak, primary schools in the most remote areas of the North West are cleaner than our city council. It is an indicator of the many other problems that are plaguing the city and many of our institutions. That is why Anglophones want a Federation to be able to manage their affairs effectively and efficiently.
PROBLEMS OF THE DIASPORA
Many persons in the Diaspora want double nationalities. While government officials might be breaking the law by having such double nationalities, they think other Cameroonians cannot and should not benefit from such privileges.
I will suggest that the government should give those in the Diaspora Residence Permits so that they can come back to Cameroon, without the necessity for entry visas.
GENERAL AMNESTY
Amnesty should be granted to all those in custody and in the Diaspora so that healing and dialogue can take place.
TRANSITIONAL GOVERNMENT
I suggest that there should be a TRANSITIONAL GOVERNMENT in place now to correct the errors we are going through. It should strengthen state institutions and make them credible. It should champion the organization and management of a Truth and Reconciliation Committee that will set the records straight in the nation.
We should do this before holding any elections. Elections in an atmosphere of tense and mistrust can degenerate into more chaos.