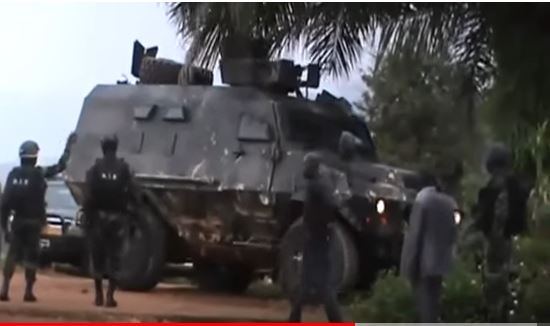 BUEA,Cameroon-Sunday April 22, 2018-11:20 AM Local Time (Cameroon News Agency) Equinoxe Television's South West regional correspondent, Derick Jato, who traveled recently to Menji, chief town of Lebialem division in the South West region has revealed that the whole town has been deserted as people have fled to bushes and neighboring villages, while some have gone to the West region in the Menoua.
The journalist, known for his bravery in covering the Anglophone crisis has told CNA that they survived from a serious exchange of gun shots between fighters believed to belong to Ambazonia, pro-independence activists of Southern Cameroon and security forces.
They were in the Governor's convoy en route to Menji to install the new SDO of the area. Derick Jato said when they arrived Menji, he saw a total ghost town, it was as if no one has ever lived there" I have just been hearing of how people are deserted but never saw a thing like Menji, the whole place is deserted, houses locked, used tables still outside and compounds overgrown with grasses, they were clear signs, the people of Menji have fled to safer areas," Derick Jato told CNA.
He also recounted how he took a walk around town but saw only military men struggling to have a view of every corner, " Armored cars are everywhere in Menji and Military men in mufti are combat ready for any eventuality."
Mr Jato added that , "I saw Baghdad in Menji, Mr Nfor, this issue is not easy."
The Equinoxe TV correspondent who was recently awarded a prize by the General Manager of Equinoxe Television, Severin TCHOUNKEU, also said life even within administrators was very demanding, for instance, it took just few minuses for the Governor to install the new SDO Eta Ashu because time was not on their side. The fear of imminent attack from the Ambazonia fighters has kept them alerted.
The Governor's convoy was attacked twice as they made their way in and out of Menji through the West region.
Photo( Screen Shot from Jato's Report)
CNA is the leading online news outlet in Anglophone Cameroon, continue to support us on  Mobile Money or call 679 700 696, we will break boundaries and bring to you fresh and valid information for your consumption. 
Watch Report of Derick JATO