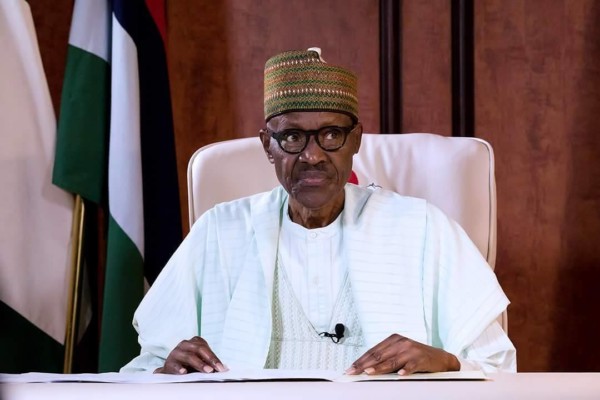 Youths have taken to social media to express displeasure over the comment attributed to President Muhammadu Buhari about the young people in Nigerial.
President Buhari had described the young population of Nigeria as lazy and uneducated during his speech at the Commonwealth Business Forum in Westminster on April 17, 2018.
But many of Nigerians on social media, particularly on Twitter, have rejected the tag, saying they are not lazy or uneducated, but the inefficiencies of the government have incapacitated them.
A twitter user with the handle, @Cardinal4400 said; "To think his son was treated abroad with "lazy" taxpayer's money after crashing his bike bought with "lazy" taxpayer's money. This thing dey pain me."
Another user, @ani_nomso castigated Buhari's Administration for failing to fulfil its promises to the youth yet described them with such derogatory terms on international platform.
"Buhari promised to pay provide jobs after seeing how NG Youths suffer. Came into power & thousands of Youths have lost their Jobs. He now goes to the UK to say we are Lazy despite owing us N120K" he tweeted.
But this is not the first time the Nigerian President would ridicule the country in the gathering of foreign leaders.
In 2016, President Buhari legitimized the comment of former Prime Minister of Britain, David Cameron, when the former described Nigeria as a "fantastically corrupt" nation.
When asked by a Sky News correspondent if he agreed with the Prime Minister, the Nigerian President simply answered in the affirmative.
The president also in an interview with The Telegraph described Nigerians as having reputation for criminality.
Here are some other comments from Nigerians;
@ilynem "Buhari that didn't get an Education when It was free? Now calling us #LazyNigerianYouths when Education has become a luxury and getting a good paying job is now regarded as a miracle? Can't believe I once campaigned this man. God forgive me."
@Bhadoosky "I am a Nigerian youth, A MultiDegree holder. I am a hardworking entrepreneur, with a family to cater for. I pay tax, generate adequate light for myself and pay for security in my country. My President lied by calling a lot of youths like me."
@kinglucia_ "Nigerian youths are willing to do jobs that they actually hate just to make ends meet. Nigerian youths adapt to EVERY situation to survive. Nigerian youths are not Lazy!"
@writers_hills "Are Nigerian youths really lazy? What has the Buhari administration done to improve the lives of Nigerian youths? I don't blame him, his time is up. The youths will give him his result in 2019. We will see who is more hard working."
@Cardinal4400 "To think his son was treated abroad with "lazy" taxpayer's money after crashing his bike bought with "lazy" taxpayer's money. This thing dey pain me."
@d_4_dotun "I am a 2nd class upper graduate of chemistry science from the university of lagos, I am now a shoe maker cos I couldn't get a job, I am not lazy, I am not lazy I am not lazy."
@OsasCruz "I'm not lazy… I worked to put myself through the University.. Nigerian youths are not Lazy!! Nigerian Youths are not Lazy!! Nigerian Politicians are Lazy!! Nigerian Politicians are Lazy!!"
Curled from Sahara Reporters