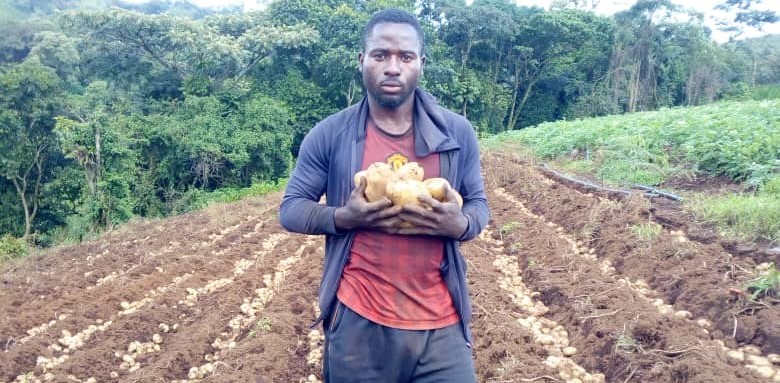 He quit school since 2002 and started a new career as a farmer in a small locality of Bambui, the outskirts of Bamenda, North West region. For 17 years, Mogou Christopher has been able to employ over 100 persons who work in his Irish Potato farms. He harvests up-to 1000 bags, three times a year. Today, the 30-year-old former has set up a Cooperative to teach potential farmers seed multiplication, greenhouse farming among others.
"I left school because no one was available to sponsor my education. I left form 5 with no certificate." The told CNA Correspondent in Bamenda.
Today, Mogou Christopher has not only worked hard to harvest at least 1000 bags of Irish Potatoes in three seasons; March, July, and November, he has been able to invest even in greenhouse farming. That is why he created the United Agro-Pastoral Farmers Cooperative, https://www.facebook.com/mogou55/ to train those interested in farming not only Irish potatoes, also maize, carrots, vegetables such as cabbages and tomatoes.
"I want the world to know about our cooperative; we are young farmers offering training to graduates and undergraduates, the door of our cooperative is open for anybody of goodwill. Our vision is to bring this cooperative to a higher level so that the population will benefit from it
Anybody of goodwill that will work with us to improve our skills the door is open because we believe as days are going ahead we are learning every day. Anybody that needs our produce can contact us through this number 665890903 or on WhatsApp through 675993034." He said.
There is no rest time for Mr Mogou because he has to constantly supervise his over 50 hectares of farmland to make sure that all crops are doing well.
His outputs are outstanding but it isn't all. Mogou wants to extend the knowledge to other regions of Cameroon. That is why he is appealing to those who love and willing to take a career in farming to join him for training sessions on seed multiplication.
The father of one has met with senior authorities in the North West region including former Prime Minister Simon Achidi Achu. He has also taken part in a series of meetings, Campaigns and trials day.
Though he has made strives so far, the current armed conflicts in the North West and Southwest regions have caused him unprecedented damages, "Things are not moving at all. We can't go to the farm at the right time can you imagine the day that you want to go and treat the crops you'll hear people will ghost town. It affects me very very badly." He told CNA
Contact United Agro-Pastoral farmers Cooperative on: https://www.facebook.com/mogou55/
Calls/SMS: 665890903
WhatsApp : 675993034