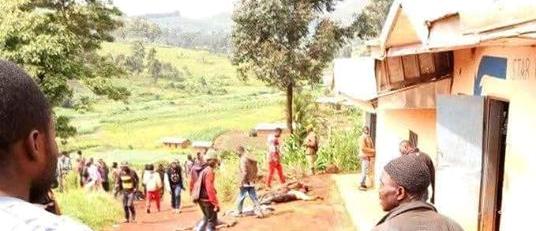 SANTA,Cameroon-Friday May 25, 2018-3:30 PM Local Time (Cameroon News Agency) At least 26 persons have been killed in Menka, one of the five villages in Pinyin, Santa Subdivision, Mezam Division in the North West region of Cameroon, CNA has learnt.
Sources have told CNA the scene took place early Friday in a neighborhood called Nkongnituit around a motel known as Star hotel. Our sources say  it is believed that some armed men  were around the hotel Wednesday night but are reported to have left early Friday before the military raided the area. An anonymous source said, "It is said that some amba boys came in the periphery but left in the morning before Soldiers came in."
Another source said, " The boys are said to have stationed in a certain motel known as Star hotel at Nkongnituit a small quarter in MENKA village, Santa subdivision. So, the military came and surrendered the hotel killing people indiscriminately. Before I left the place, the villagers were picking the corpses and gathering them in front of the abandoned hotel ."
Some 26 villagers are said to have died on the spot while 2 were hospitalized and many taken away by the Military according to sources.
It is not clear how many of the fighters were killed and CNA cannot independently confirm whether those killed were exclusively  fighters. But different sources say the persons littered in the compound and nearby  bushes are villagers who were simply going about their daily activities.
Other sources say the persons killed had been terrorizing and collecting money from villagers at gun point, an information CNA cannot independently confirm.
————————————————————————-
Pinyin is a Clan of five villages in Santa Sub-Division, North West Region, Cameroon. It is bounded to the east by the West and South West Regions of Cameroon, to the South by Ashong in Momo Division and Bali sub-division in Mezam Division, to the west by Mbu Village in  Mezam Division, and to the North by Santa Mbu and Santa Mbei both of Santa Sub-Division. According to a survey in 2011 by  Joshua Project,  the population of Pinyin clan is about 33,000 inhabitants.