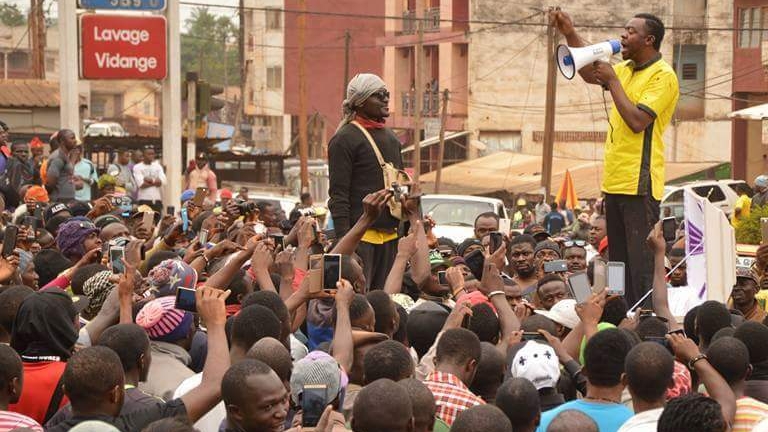 By Innocent A.
Detained, Mancho Bibixy, Ambazonia Coffin Revolution leader, in a new audio release from jail in Pidgin English on August 24, 2019, says if all from their positive reactions play their respective roles well, children will resume school. He adds that, while in jail, they are preoccupied with the education of Anglophone children; reasons why they protested on July 22 demanding a ceasefire and their release so that schools can smoothly resume.
Thanking all for the prayers showed them during their extraction from Kondengui to a detention facility for torture, Mancho Bibixy highlights that, neither did Anglophone detainees, burn nor destroy properties in Kondengui. That "Black Belle Pipos" did in the evening of the riot.
"Despite the physical and moral torture plus a new court case against us, the Back to School Campaign continues", says Bibixy.
The Coffin Revolution leader clarifies they are not advocating for back to school or for children to resume school in war. He revealed that they have written a series of documents and sent to Yaounde top government authorities to do in goodwill everything in their capacity void of self-interest and war benefits to end the armed conflict in the southwest and southwest regions.
Mancho says, "We have continued writing and singing for the release of all those arrested in connection to the Anglophone Crisis, withdraw troops from Anglophone Cameroon, bring back refugees, enhance an inclusive dialogue, for hitch-free back to school".
"I had taught them history and warned them in the military court during my trial of consequences of the danger route they were taking, but I was snubbed. Today they are witnessing the results. All proposals I gave, they have implemented them wrongly aggravating matters. We will not get exhausted preaching the right thing." Stressed Mancho Bibixy.
Sacrificing the Fourth year without school shall not be pardonable by the growing children. " These children shall grow and strangulate us. We call on all to join this back to school battle. If you are a parent, remember education is the best gift you can give your child before you die. If you are a child, know that this fight is for you. Do your best or else you shall be the greatest loser." Bibixy adds.
Still, in the audio release, he revises the important role Religious Authorities have been playing to build literate children protesting. He begs the religious to join the battle.
Mancho Bibixy also implored the International Community to assist like it has been doing elsewhere to rebuild the educational system during and after the war. " We have seen the works you have done in other war countries. Why have you not impacted Anglophone Cameroon the same way?". Asked Mancho Bibixy.
The Coffin Revolutionist, Mancho Bibixy challenged the Biya Government to do the right things, then sit back and watch whether schools will not be overloaded within a month. "The time to do it, is now." Advised Mancho Bibixy.