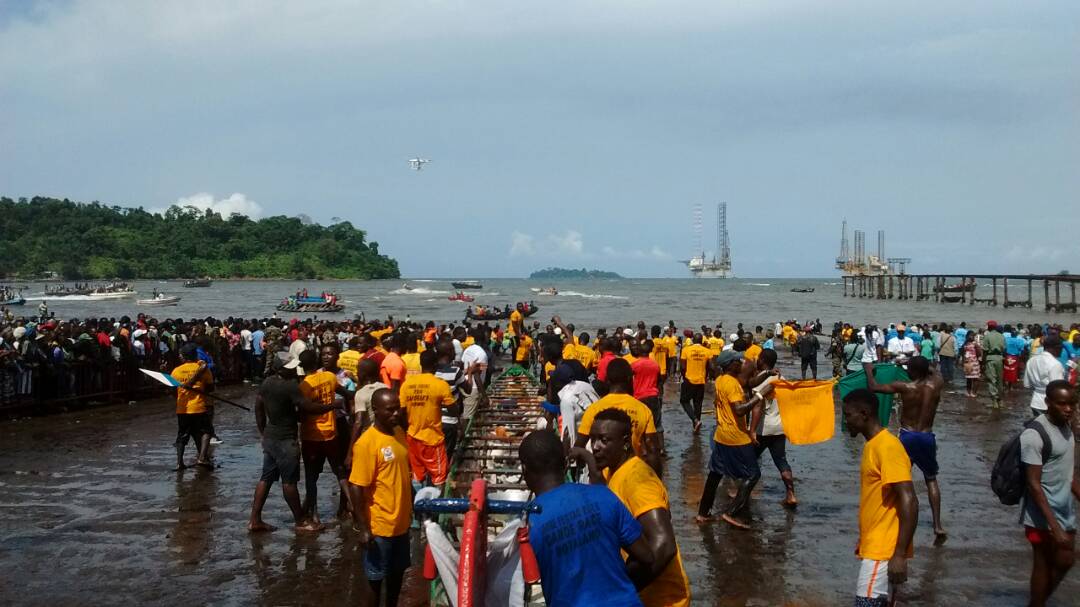 By NFOR Hanson NCHANJI
LIMBE, Cameroon-Sunday April 15, 2018-12:00 PM Local Time (Cameroon News Agency)The 5th edition of the Limbe Festival of Arts and Culture, FESTAC and the celebration of 160th anniversary of Victoria, now Limbe has ended Saturday April 14, 2018 with award of prices to competing individuals, teams, villages and regions. The Limbe FESTAC 2018, though has a divisional origin, its activities have gone beyond National and International boundaries with a huge impact and recognition.
The closing ceremony of the twin events took place at the seashore of Limbe in Down Beach in pomp and pageantry, after a well diluted activities of last day including ; Wrestling, Canoe Race, Tug of War and Marathon.
The Government Delegate to the Limbe City Council, Andrew Motanga Monjimba in his closing speech remarked that the 8 days event has recorded unprecedented success in all facets and despite some lapses which he begged participants to ignore, positive contribution and genuine criticism he said is the bedrock where FESTAC should be laid.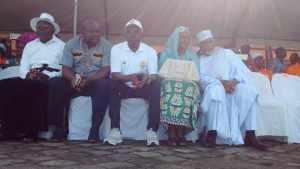 Cross Section of Dignitaries-Far Right Government Delegate Ngoundere City Council 
Andrew Motanga Monjimba insisted that activities like FESTAC are important in our society today especially as we struggle to valorize our cultures threatened by modernism.
The Government Delegate said, the main message Limbe has sent to other communities in Cameroon is that, "Limbe cherishes peace because it is priceless-without peace, there can be no sustainable development," he told the crowd.
The crowd consisted of men of caliber and timber; including the Government Delegate to theNgoundere City Council and his entourage, the Minister of Secondary Education, Dr Nalova Lyonga, the General Manager of SONARA, Ibrahim Talba Malla, Fako SDO Emmanuel Ledoux among others.
 Canoe Race, The Joker of FESTAC
As usual, the 5th edition of the Limbe FESTAC reserved the canoe race for the last day, Saturday April 14, 2018. The canoe race is usually a crowd puller as it involves several villages competing same time, it also depicts the activities of the limbe youthful population which centers on fishing. Who will therefore be the king of paddling a canoe on same sea they fish in daily?
The answer could not be given instantly but every team was confident to carry the day. At 7 am Saturday, two hours to the kickoff, members of the Mondoli team, from Mondoli Island who consider themselves as home boys, were busy taking breakfast comprising bread and transparent tea which seemed to have been colored with a tea spoon of milk, served in carefully carved cups from used containers of brewery products.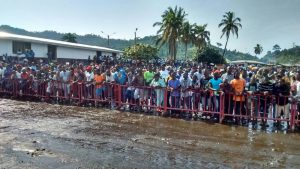 The Mondoli boys looked energetic, aggressive and determined, however they cracked jokes as they all gathered beside their canoe by the seashores.
This reporter was keen on their conversation as they awaited the right time to strike. In their discussion accompanied with laughter and self confidence, they talked about winners of last year Wovia Canoe team from the Wovia village and as if to say call the devil and he appears, the Wovia team was spotted far in the sea, advancing the Beach.
They wore Black T-Shirts and constituted over 20 youths with each paddle boarding till they reach the shores. The songs sung by the Wovia team played psychological defeat on the Mondoli team whose members started panicking; they immediately took their yellow T-Shirts and wore ready to face the challenge.
Some white grains were taken from a bag and poured inside the Canoe while team members looked on. A passerby whispered to me that it contained 'mystical powers'. They also told me that the reason why the Wovia team did not descend when they arrived one hour ahead of kickoff time is because they are working on mystical principles.
And before kickoff, one could hear teams shouting, "Bruuuuuh jey…….ehhhh,'….Bruh jey…ehhh…Bruh jey…eh," and the canoe is rolled slowly to the sea.
When all five teams representing five villages were set, the gunshot was fired for the kickoff.
It took over one hour for the 'home boys', Mondoli to arrive Down Beach as winner of the 2018 Canoe Race bagging the sum of FCFA 700,000 plus a trophy, Batoke came second with a cash prize of FCFA 500,000 and a trophy, last year's winner Wovia took the 3rd position FCFA 300,000, Bota Land 4th with FCFA 200,000 and Bimbia team which resigned halfway was given FCFA 150,000.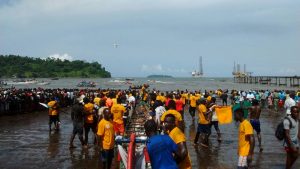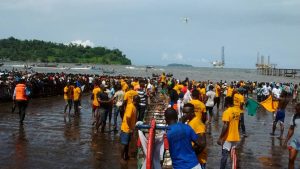 Mondoli canoe team, winner of canoe race
In the Female Race and for the first time in FESTAC, Bimbia came 1st bagging home FCFA 500,000, Bota Land came 2nd with FCFA 350,000 while Batoke came 3rd with FCFA 200,000.
In Pictures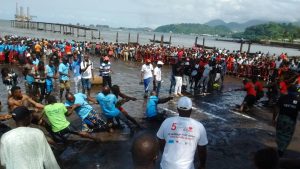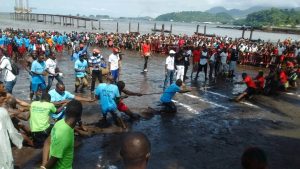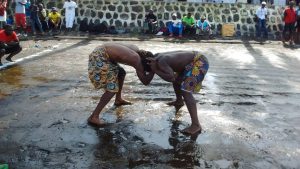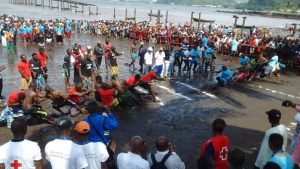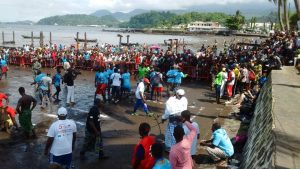 Other competitions included Wrestling and Tug of War alongside the Limbe City Njalla Quan Marathon Race.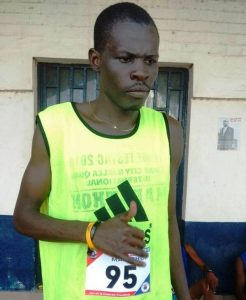 Foimi Ghislain came 1st in the male category while Jules Leclek took the 2nd position.
In the female category, Mountaineer , Ngalim Lizette emerged winner while Ngong Seviera was second, Ngwaya patience and her sister Ngwaya Yvonne were third and fourth respectively.
The Miss FESTAC 2018 competition was won by Dibong Melina who bagged home FCFA 500,000, first runner-up Ewoke Christina Limunga, FCFA 350,000 and second runner-up Emilia Anne Ejang with a cash prize of  FCFA 250,000