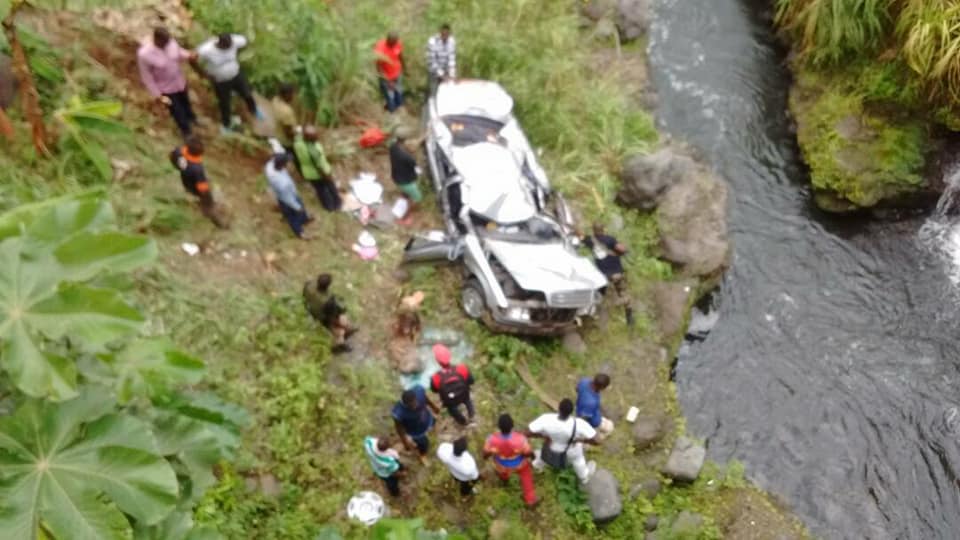 By NFOR Hanson NCHANJI
BUEA,Cameroon-Sunday April 15, 2018-9:00 PM Local Time (Cameroon News Agency) The damaged nature of the vehicle tells the whole story. A tragic tale of five hefty men returning from birthday party from Limbe but could not reach their destination in Buea. Death snatched them in a wicked way, leaving families and friends to mourn their sudden departure. Their journey ended at the Ombe bridge in Fako division, South West region, among them, three workers from the Buea Council and two others.
The Council is mourning and workers are shocked with the unpleasant news from Ombe;  Elvis Ekongolo, Ngou David Wotany and Anyi Che Eugene, the first two are said to be relatives to the Mayor of Buea Patrick Ekema, they all died alongside two other deceased victims and according to reports, they  were returning from a Birthday party in Limbe when death stroke them Sunday afternoon.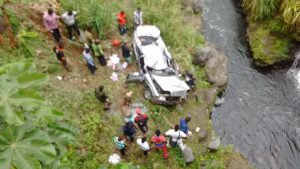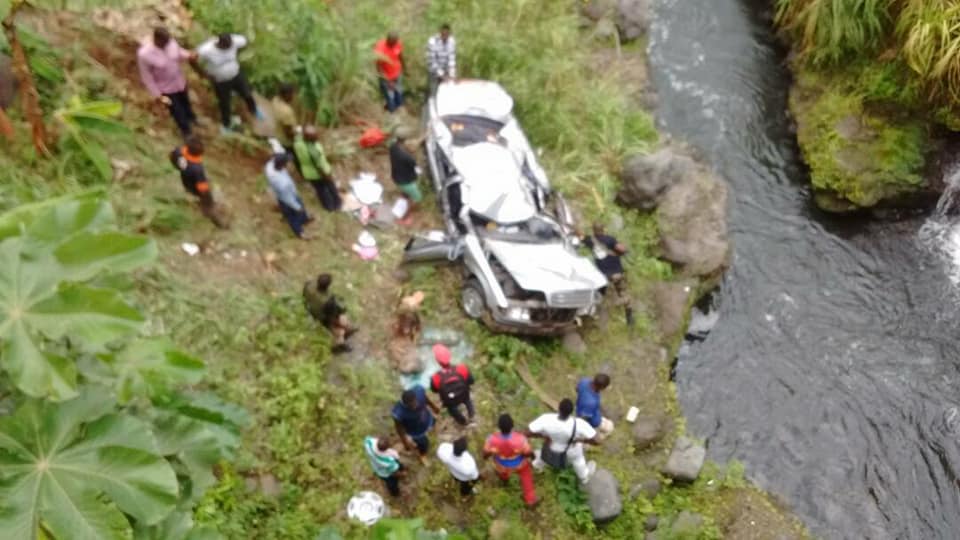 A wide shot view on the Ombe accident site as crowd gathers watching in dismay 
A source at the Buea Council told CNA that they went to Limbe Saturday  April 14, 2018 to celebrate the birthday of the wife of Anyi Che Eugene, market master of Muea market in Buea. Upon returning from the birthday party Sunday afternoon en route to Buea, they were about 10 in two different vehicles. Our source says, he cannot really tell what happened because one version says the driver of the first vehicle attempted to escape an oncoming vehicle before landing down the river, while another blames the accident on exceed speed and drunkenness.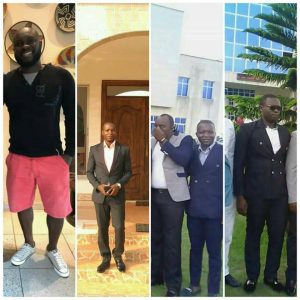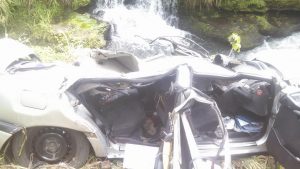 Remains of the vehicle 
The wife of Anyi Eugene whose birthday was celebrated was in another car.  Elvis Ekongolo was market master at Buea Central market, Anyi Che Eugene, market master of Muea market in Buea, while Ngou David Wotany was Tax Clerk at the Beua Council, the former and latter, brothers of the Mayor.
Ngou David Wotany ,Tax Clerk at the Beua Council was returning to Buea to also celebrate his birthday, April 15, unfortunately he died same day he was born.