Bafia,Cameroon
The lifeless body of the Bishop of Bafia Jean Marie Benoit Bala has been found in the Sanaga river around Ntchan,a village in Monatele in the Lekie division in the Centre region,officials have confirmed.
His body was retrieved from the waters by midday Friday June 2, 2017 by some 14 fishermen and Marine forces and taken to the mortuary of the Yaounde General hospital.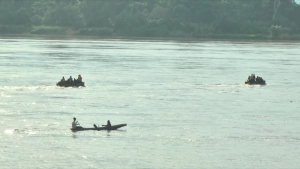 It is not clear whether he was killed or not. Francis Ekosso, Commander of Yaounde Fire fighting unit said the body is that of the man of God but did not give further details insisting that he must talk with his superiors who will give an official release about it.
His body was spotted by some fishermen for the first time since three days when he was declared missing by the National Episcopal Conference. The President of the Conference Archbishop Samuel Kleda had told Pressmen that the bishop could still be alive.
He went missing since last Tuesday ,officials at the Bafia Diocese said he left that fateful day by 11 pm and his vehicle was later discovered beside the Ebebda bridge.
Investigations have been opened.