Society
Case Against PCC Dropped, Moderator Upheld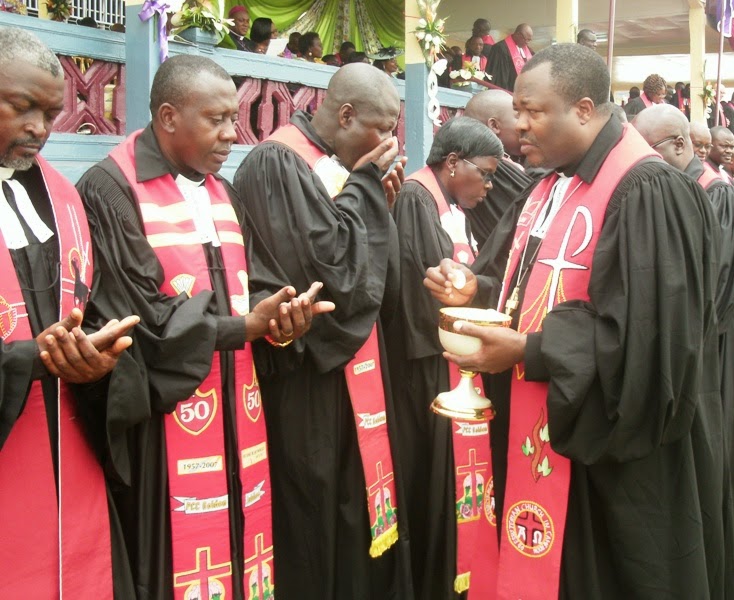 Buea,Cameroon
By NFOR Hanson NCHANJI
A group of Parents represented by Dr John Lyonga Efande, Ikome Williams Ligange and Alianto Ngala have dropped the case pitting them against the Presbyterian Church in Cameroon, PCC, CNA has learnt.
In a release from the Buea Court of First Instance and dated Thursday June 1, 2017 the plaintiff noted that it was a "Discontinuance of Case" against the second defendant(PCC) in the two cases currently under the court.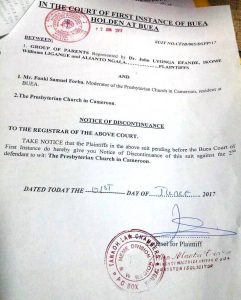 CNA learned from a reliable source that the plaintiff and court allegedly got scared with the number of PCC Christians who were planning to storm the court Monday June 5, 2017.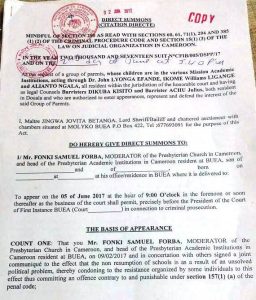 But in another summons, the plaintiff noted that the case pitting them and Rt. Rev Fonki Samuel Forba, Moderator of the PCC will hold that same Monday by 9 am at the Buea Court of First Instance.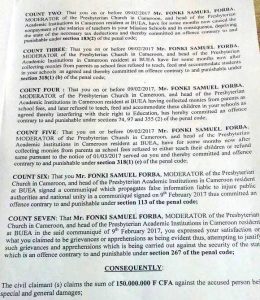 There are seven counts levied against the Moderator, among others are; the nonpayment of salaries of teachers for months now which has deprived the State of tax deductions, an offence punishable under section 183(2)of the Penal Code, the Moderator is also accused of signing a Communiqué on February 9,2017 propagated false information, liable to injure public authorities and National unity punishable under section 113 of the Penal Code.
They are claiming the sum of 150.000.000 FCFA as damages.