Society
Consortium of Parents Vs Bishops: Counsel of Plaintiffs Apply For Adjournment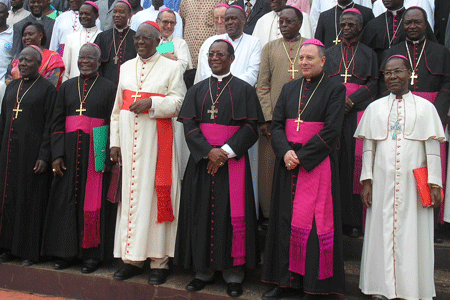 Douala,Cameroon
By NFOR Hanson NCHANJI
The Counsel of Plaintiffs (Consortium of Parents and Others) Barrister ACHU Julius has appealed for an adjournment of the case pitting his clients and Bishop Cornelius Fontem ESUA and others.
In a release dated Thursday June 1, 2017 believed to come from the Chambers of the Legal Mind, the reasons advanced for the move is due to ill health and possible adjustments in the Direct Summons. Barrister Julius is quoted as saying, "…I cannot travel to Bamenda…due to ill health as well as the fact that, I intend to make some fundamental amendments of the direct summons…"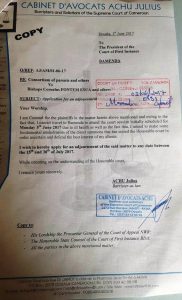 The court case was schedule to hold on June 5, 2017 at the Bamenda Court of First Instance.
The clients are claiming the sum of FCFA150.000.000 as damages for non resumption of school, nonpayment of salaries of teachers, propagation of false information which could undermine security of the State among others.
Mamfe PTA Presidents Disclaim Connection With Court Summons
Grouped sometime back on May 9, 2017 in an extra-ordinary general assembly, Presidents of close to 10 Parents Teachers Association in the Diocese of Mamfe, in Manyu division dispel allegations which are rife that they were involve in summons of some Catholic Bishops.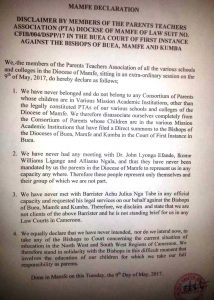 In a final Communique which sanctioned that meeting, the PTA Presidents said they have never belong and will not belong to any Consortium of Parents whose children are in Mission schools under the Catholic Church, they also said they have never dragged the Bishops of Buea, Kumba and Mamfe to court and do not intend to do so.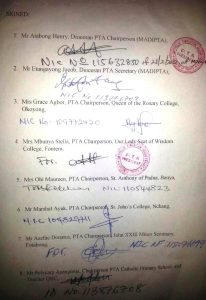 They equally said they have never met Dr John Lyonga Efande, Ikome Williams Ligange and Alianto Ngala or Barrister Achu Julius for any court case.
The PTA Presidents stood firm and gave their unflinching support to the Bishops in moment they describe as "Difficult".