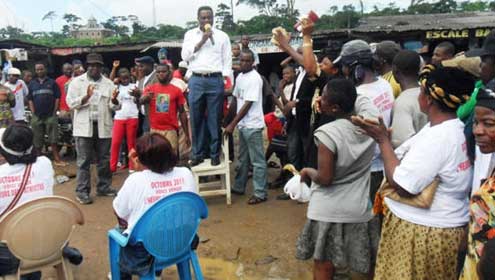 Douala, Cameroon-August 1,2017-10:15 pm Local Time(Cameroon News Agency) The crisis rocking the African Movement For New Independence and Democracy, MANIDEM, took another twist Tuesday August 1, 2017 when the Divisional Officer for Douala One, Jean Marc Ekoa Mbarga banned the holding of a press conference programmed at  a local hotel in Bali, Douala.
Police and Gendarmes stormed the hotel brandishing and order from the DO who said the main reason was to avoid public disorder which according to him was already looming.
Journalists who came to cover the event were asked to leave while police interrogated some MANIDEM members.
The conclave convened by the party's president Dieudonne Yebga was aimed at making public recommendations arrived at after a meeting grouping members of the National Coordinating committee which held in Mbankomo last July 29, 2017.
Before Tuesdays failed Press Conference, the spirit of division had already eaten deep into the party with factions.
A press conference which held last week at the party's head quarter in Douala was presided by a certain Bedimo Kouo, the Communication Officer of the party. But the President Mr Yebga said he did not give the go ahead for meeting.
Earlier it had been rumored that the party was about ejecting the National President from his position.
Mr Yebga opines that they are struggling to 'sell' the party to the regime in place.