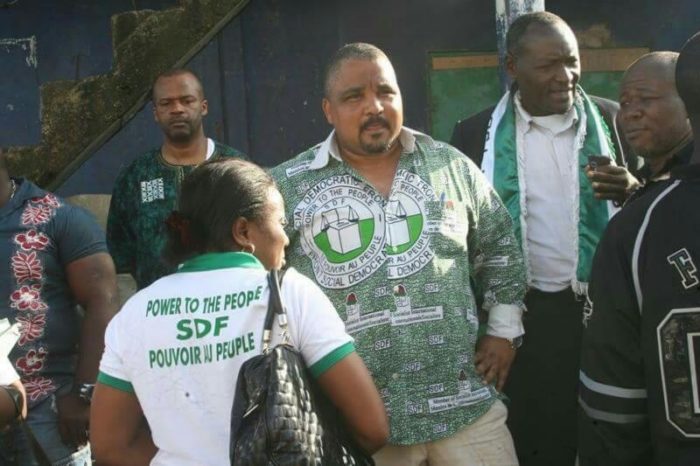 Bamenda, Cameroon- August 1, 2017-9:20(Cameroon News Agency) Speculations are rife that a meeting convened by the Secretary General of the Social Democratic Front Party, SDF, Senator Jean Tsomelou for this Saturday August 5, 2017 in Bamenda could have as discussion a possible campaign by the party for school resumption next academic year.
The agenda of the meeting has not been made known in the release but the Scribe indicates that it would be an enlarge meeting to include Senators, MPs, Mayors, Shadow Cabinet members and members of the National Advisory Council of the party.
Other opinions hold that the party cannot champion calls for school resumption when it greatly criticized the government for the poor manner in which it handled the Anglophone crisis.
SDF National Chairman, NI John FRU NDI who will chair the meeting has come under spy glass recently especially after his tour in Europe and his take on the current situation. Social media activists have been quick to write that he has been bought by the government.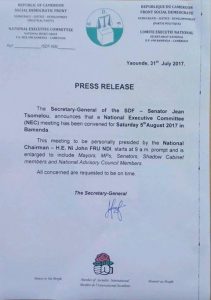 Resolutions of Last Meeting Held in May
NEC members noted that the government has continued to fight undeclared war against the people of two regions with military deployed everywhere intimidating denizens.
Saturdays' NEC meeting was also an opportunity for the party to put in place a commission of inquiry which will probe into cases of torture, arbitrary arrest and detention in the two English speaking regions.
They frowned at the court case opened against some Bishops in Cameroon arguing that the Mission has done a lot in educating Cameroonians and cannot be brought to court today by so called Consortium of parents.
Away from national life, the SDF was also preoccupied with its internal affairs especially the brouhaha in the Centre region. To this effect, the party used article 18.8 to dismiss all executives and the NEC Committee for the region to take charge while preparing for fresh elections.
The party also announced it will hold National Convention in the month of October.