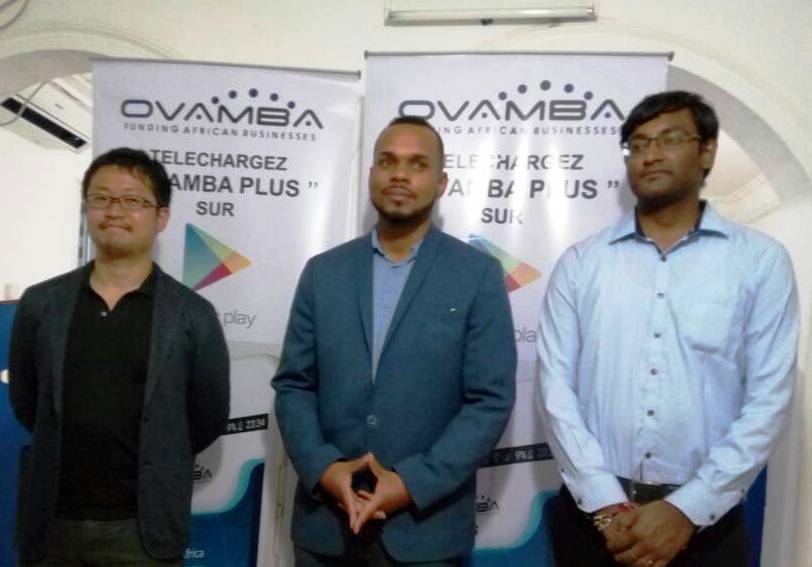 Douala, Cameroon-September 14, 2017-7:00 PM Local Time (Cameroon News Agency) Ovamba Solutions, Africa's biggest Small and Medium Size Enterprises funding source has unveiled its latest plans for its present and future clients in Cameroon by introducing another giant sponsor from Japan, Crowdcredit,  which is expected to pump more money into the coffers of Ovamba for future projects.
The Chief Investment Officer for Crowdcredit, Sungjae Kim bearer of the project was presented to the Press at the Bonapriso head office of Ovamba Wednesday September 13, 2017. The Japanese investor who is in Cameroon for his first time said he was amazed by the work Ovamba Solutions has been doing to help Small and Medium Size Enterprises grow in Cameroon, disclosing that his company has decided to be part of the success story by providing more finances for more projects to be realized.
Mr Kim said because Ovamba is a company with reputable transparent records, investing in its projects is a huge contribution to nation building, reasons why he had already visited some Cocoa and Coffee projects in the West region to match words with action.
He confessed that Africa in general and Cameroon in particular has potentials, the workforce and talents but lacks access to credit reasons why they, Crowdcredit,  want to demystify the current situation by injecting money for funding of SMEs.
Ovamba Solutions will soon clock four years in Cameroon but it has already interacted with 2000 businessmen and presently working with 400 clients. The global Chief Executive Officer of Ovamba, Marvin R. R .Cole said the company has made great success since 2014 in accompanying SMEs and still has more,
" For now we created a forum where businessmen now know they have a financial partner, with our growth at the service slogan; we purchase both nationally and internationally , clear goods, provide warehouse facilities, in fact we accompany the businessman at every stage." He told Press men.
The global CEO of Ovamba said they are interested in goods whose rates of turnover are high such as; Construction materials, Glasses, Aluminum and recently Cocoa and Coffee. He revealed that the company is monitoring the agriculture sector and may fund in future the Cassava, Banana SMEs.
He noted that Ovamba does not give physical cash but can purchase the goods and carry out other services for an enterprise.
Ovamba is Co-founded by Marvin Cole and Viola Llewellyn.
How to Get Funding From Ovamba
Apply online or via your mobile phone
Monitor your portfolio and stay up to date with news about the companies you have funded.
Receive a decision in 48 hours
Within 48 hrs – you will receive notification if your business meets our target criteria. Ovamba supports well run and fast growing businesses that meet our ethical and social governance rules (inclusive of islamic finance rules). We perform due diligence on the business, the products, the owners and your customers.
Receive an offer based on your risk profile
Ovamba will make an offer to purchase the assets or receivables offered by the SME. These assets are then sold to you at a pre-agreed markup that is inclusive of all costs incurred and an Ovamba margin.
Picture from Left to Right: Chief Investment Officer Crowdcredit, Sungjae Kim, Ovamba Global CEO Marvin Cole and Software Developer
For more information on how to apply go to https://www.ovamba.com/home