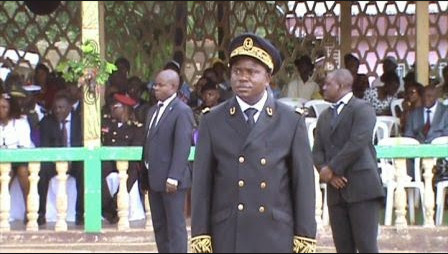 By Njingang Godwin
Kumba, Cameroon- September 17, 2017-10: 30 PM Local Time (Cameroon News Agency) The Senior Divisional Officer for Meme in the South West region, Nto'ou Ndong Chamberlain has described the elites of Konye sub division as being too weak to convince parents to send their students and pupils back to school.
The senior civil administrator made the comments in Konye Thursday September 14th, 2017 while commissioning the newly appointed divisional officer into his functions. He used the occasion to emphasize to parents that education is the fundamental prerequisite to success and that they have to allow children calve out their future.
Nto'ou Ndong challenged the new civil administrator to ensure that he uses all the available means in his disposal and get the children to school this Monday.
Away from school resumption, he was also asked to check the flow of illicit drugs in the sub division, the consumption of contraband products and most especially the chieftaincy crisis that has been rocking the sub division.
Being elite of the south west region, the DO will equally be faced with the uphill task of dealing with the current Anglophone crisis. The SDO praised the out gone divisional officer Hotison Babila for the contributions he has made in elevating the Konye municipality and for enabling the almost completion of the tarring of the kumba-Mamfe road where Konye is a proud beneficiary and urged him to continue in his new post in Niete in the Ocean division of the south region.
Earlier in his welcome address, the mayor of Konye Council Barrister Dr Musima George Lobe described the new divisional officer as an apostle of emergence. He took out time to narrate the history of Konye from time immemorial and said, Ekole Blessed Epimba is the first divisional officer to be installed on a tarred road in konye.
Konye is spread in a distance of 1.1km with a population of 80.000 inhabitants and divided into four main tribes namely the Bafews, Balong, Mbonge and the Bakundu.
Born in Dipenda Balue in Ndian division in 1971 Ekole Blessed Epimba attended Presbyterian school Madia Ngolo where he obtained his First School Leaving Certificates in 1981 and moved to government Bilingual High School Mundemba where he obtained his ordinary level and advance level in 1990, in 1992 he gained admission into University of Yaoundé II Soa and graduated with a Bachelors degree in science with specialty in political science and graduated in 1995.
He gained admission into the Advance School of Administration and Magistracy, ENAM in 1996 and graduated two years later in 1998. He worked briefly in the ministry of territorial administration before being transferred to Bui division as first assistance SDO from 2000 to 2003, he was later moved to Manoka as DO from 2003 to 2006 and later to Bafut in the same capacity from 2006 to 2011 he moved to Fundong from 20011 to 2017.
He is married and a father of many children.