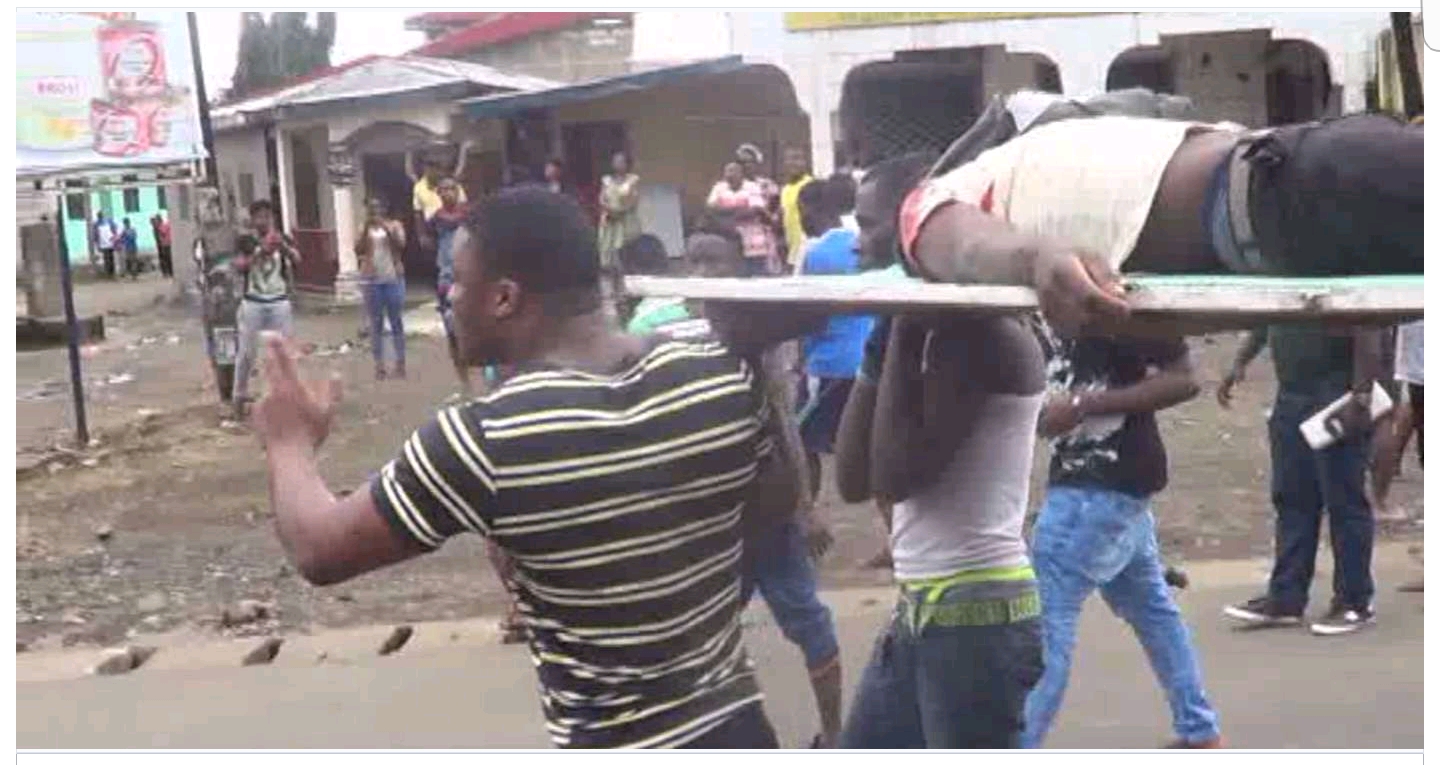 By NFOR Hanson Nchanji
Douala, Cameroon-Saturday September 22, 201i-3:30 AM Local Time (Cameroon News Agency) At least Four persons were killed amd several others injured last year, September 22, from gun shots in Santa, Buea, Kumbo, Limbe and Mamfe in an unprecedented protest demonstration across Southern Cameroon.
The death toll however did not rise , shockingly due to the republican behavior of the military in some areas like Bamenda, where they accompanied the protesters in their peaceful march.
Two persons were shot in Limbe in the South West region and rushed the regional hospital in mile one.
In Buea one person was shot dead and youths paraded the streets with his corpse. One vehicle was set ablaze while the residence of the Mayor of Buea, Patrick Ekema was visited by some youths.
They destroyed five of his vehicles, manhandled guards on duty and destroyed glasses of the house. The Mayor is accused to have shot one person dead, but he refuted the allegation.
In Santa, North West region, one person was killed by bullet after protesters clashed with security forces.
Old Woman in Bamenda Joined the Peaceful Protest
Several persons were shot in Kumbo, one later died.
The fourth deceased case was in Manyu Division , where one person was shot by Soldiers in Mamfe,
There were other protests in Kumba,Tiko, Ekona, Muyuka, Ndu, Nkambe and other localities.
Thousands marched on streets demanding for the release of all Anglophones arrested within the context of the crisis.
They were also singing freedom songs, calling the name of coffin revolutionist, Mancho Bibixy, incarcerated at the Kondengui prison.
The protests began around Ebonji, a village Kupe Muanenguba division before spreading to Konye,Ekona and others areas.
Boys of Ekona stormed the police station and mounted the "Ambazonia flag" chanting freedom songs; they also marched to Buea, Mutengene, Limbe and Tiko reinforcing the strike among the population.
Friday September 22, 2017, protest though ended bloody was peculiar in the sense that several Policemen and Gendarmes were just accompanying the protesters without shooting. Areas where gun shots were heard are said to have been tense.
The government through Issa Tchiroma Bakary, Minister of Communication was forced to make rounds in media houses to address the issue before the famous October 1.
The massive protests were an embarrassment to the government which had earlier posited that the Anglophone struggle consisted of few "seccessionists"
Old women, children , men and youths came out massively to demand for justice.
Initially, the protest was planned by "Takembeng" women but would later galvanize the entire regions.