Front page
Society
Trending
Anglophone Crisis: Photos of Soldiers and Policemen Killed In Manyu Displayed in Buea During Military Honors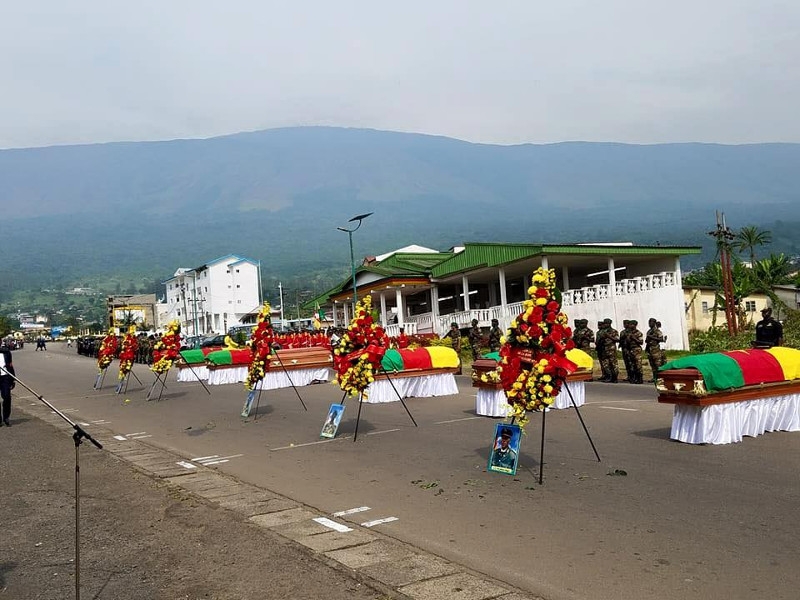 By NFOR Hanson NCHANJI
Buea, Cameroon-Friday December 8, 2017-8 PM Local Time(Cameroon News Agency) Military honors have been paid to some fallen soldiers in Buea who died after unidentified men gunned them in Manyu division in the South West region recently. Cameroon Government is certain the military men were killed by "terrorists" fighting for the restoration of the State of former Southern Cameroon, today widely referred to as Ambazonia.
The atmosphere at the Independence square in Buea was solemn, emotional as families and well wishers were inconsolable. As the military ban played the solemn tune, cries were heard from the tribune but were watered down by Defense Minister Joseph Beti Assomo who extended the Head of States Condolence message to the bereaved adding that they died as heroes whiling serving their nation.
The President of Cameroon in a recent media outing has promised he will wipe out those perpetrating the killings. The Anglophone crisis has escalated to an uncontrollable proportion as a genuine and inclusive dialogue is still awaited to bring the country out of the impasse.
The first four pictures are those of military men killed on the night Tuesday November 28 breaking Wednesday in the locality of Agborkem-German in Manyu division, South West region. They are Raphael Noutchomwo, Dobekreo Yinda, Angu Tih and Voula Voula.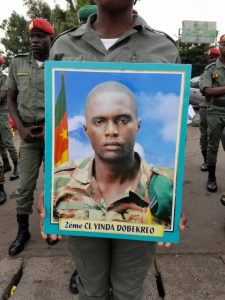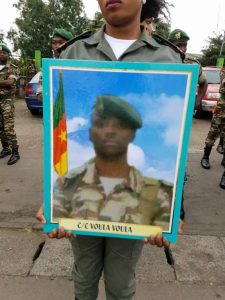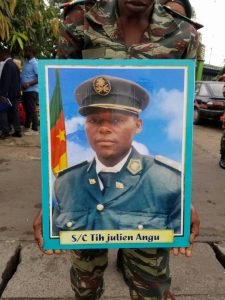 The two other Policemen, Nkwelle Derick and Calvin Ngwa Ngang killed on the night of Wednesday November 29, 2017.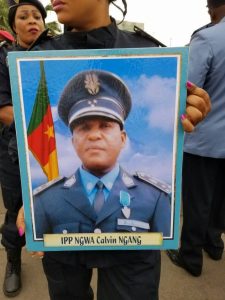 (C) CIN
If everyone who reads our reporting, who likes it, helps fund it, our future would be much more secure. For as little as £1, you can support Cameroon News Agency on mobile money or call the number for details +237 679 700 696 – and it only takes a minute. Thank you.