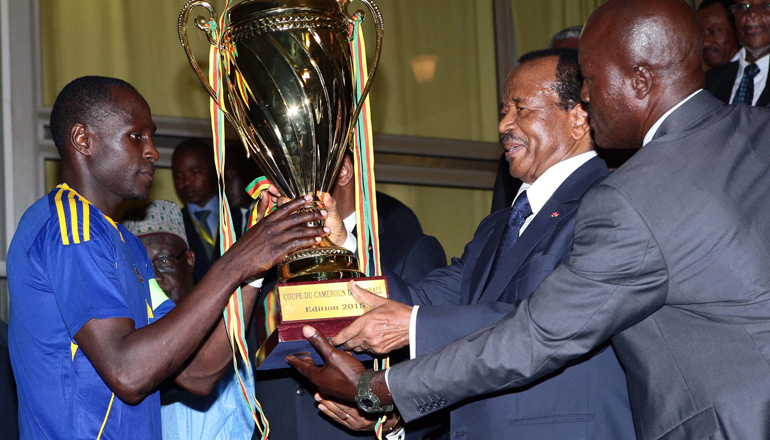 By ANGU Lesley
Yaounde,Cameroon-Friday December 8, 2017 – 9: 30 PM Local Time(Cameroon News Agency)New Stars of Douala in their second cup of Cameroon final will take on UMS in coincidentally UMS's second finals too. It would be the 8th meeting between 2 littoral clubs (derby) in the final but the first meeting between UMS and New Stars in the final.
It is the first time in 21 years that clubs from the same region will meet in the cup final. The last non littoral meeting in the final was a west regional derby in 1996 which saw Racing Bafousssam defeat Stade Bandjoun by 1 goal to nil and the last derby final still saw the meeting of two littoral clubs in 1997 when USD, Union Sportif Douala beat Port FC by 2 goals to 1 to land her last trophy till date.
New Stars Journey To The Final
New Stars of Coach Laurent George Njam has played 6 matches to get to the final. New stars have scored in all but one of their 6 cup games totaling 13 goals scored and 1 goal conceded.
New stars are currently on a cup run of 7 hours without picking the ball from the back of their net. The last and only team to score against New Stars in this year's cup of Cameroon is Olympique de Mvagan in a 3 goals to one defeat in the round of 32. They have Nouck Pierre Minka(C), Serge Andoulo, Fabrice Ambassa, Rostand Moukap and keeper Israel Kologni Kologni at the back.
Only Apejes of Mfou has prevented Black William Ngoundo Kouo B.,Cedric Djeugoue,Happi Noubessi,Alain Roland Nganle and co up front from hitting the back of the net in this year's cup competition.
The 2017 Cup of Cameroon final
64 final) New Stars 4-0 Douala Foot Academy
32 final)New Stars 3-1 Olympique Mvagan
16 final )New Stars 0-0 Apejes (Pen.4-3) eliminated the defending champions
8 finals)New Stars 3-0 Foudre Sport Akonolinga
1/4 finals) New Stars 1-0 DAC 2000
1/2 finals)New Stars 2-0 Victoria United
On paper UMS of Loum have had a more difficult road to the final eliminating 6 times winners and pre tournament favorites Cotonsport,2 times runners up Astres of Douala,2013 winners YOSA and 'born again' FC Yaoundé 2 thus eliminating 4 clubs currently in the first tier of Cameroon football( FC Yaoundé 2 included)
The boys of Coach Guy Diepnang have scored 12 goals in 6 previous cup matches and conceded 2 goals. Astres of Douala is the only club to have prevented Tabe Ayuk Vidal,Willy Nnameji,Christian Deugone,Julian Joseph Momasso,and other UMS attacking minded players from scoring in this year's competition and just Cotonsport of Garoua and FC Yaounde 2 have brigded the defense man by Paul Abouem Maya,Tchamda Romeo,Joel Etogue,Etta Thomas Bawak and Safe hand Perfait Robert Edimo.
2017 cup Run for UMS of Loum.
64 finals) UMS 2-0 FC Modjen
32 finals)UMS 3-0 Jeunesse Ngoleymakong
16 finals)UMS 3-1 Cotonsport FC
8 finals) UMS 0-0 Astres of Douala (pen.10-9)
1/4 finals) UMS 2-1 FC Yaounde II
1/2 UMS 2 -0 YOSA of Bamenda
New Stars of Douala VS UMS of Loum
These clubs have met 8 times in the league,5 of the games have gone UMS's way, 2 of the games ended in a draw and New Stars have 1 win under its belt which came in the clubs latest meeting on the 05 /02 /2017.On that day , New Stars beat UMS 3-0 to register her first competitive win over UMS of Loum .
UMS is in with a chance to win a major trophy for the 3rd season in a streak while New Stars is vying for her first piece of silverware
Top 5 previous winners
1) Canon Yaoundé: 11 titles but no cup win in 18 years and counting.
2) Union Sportive Douala (Former Jeunesse Bamileke): 6 titles but no win in 20 years now.
3) Cotonsport of Garoua with 6 titles but currently enduring a barren spell of 3 years without a cup title
*4) Lion Yaounde: 4 titles. History has it that, the club won 4 of the 7 trophies
4) Lion Yaounde: 4 titles. History have it that, the club won 4 of the 7 trophies between 1960-1966 .No success for Lion Yaounde in the cup for 51 years
TKC: 4 titles with the last coming 26 years ago
(akonlesna@yahoo.com
If everyone who reads our reporting, who likes it, helps fund it, our future would be much more secure. For as little as £1, you can support Cameroon News Agency on mobile money or call the number for details +237 679 700 696 – and it only takes a minute. Thank you.